Kandal province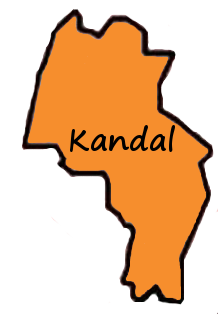 Kandal province is a province of Cambodia, which completely surrounds the province of Phnom Penh. located southeast of the country and extends to Vietnam. Kandal province covers an area of ​​3,568 km ² and is divided into 11 districts . it has 146 towns and 1087 villages.
accommodation and meal Kandal
you will have no problem staying in hotels or guesthouses even a " Ta Khamo " or even in Phnom Penh , you can quickly restored in restaurants and markets.
visit Kandal
in Kandal province 's main economy is the agriculture and fisheries so as to warn you you will have beautiful scenery to see and photograph during your stay.
Kandal province replete with place cards, but also places like Khmer or family get togethers like in Phnom ang where a pond at the foot of the hill in a beautiful landscape , Kien Svay is a place very recommended where you can enjoy your meals in huts located on the popular Cambodian river , where you can also go on boat rides and will make beautiful landscape photography as well , but the huts that line the river but Prasith Phnom , Phnom Udong .
in Kandal is also known Koh Dach "The Island of Silk" you'll understand Koh Dach is best known for its silk and the many weavers who make traditional fabrics like the famous Krama for agriculture which is formed on the island