caramel pork
list of ingredients to make the recipe for caramel pork "Kaw Sach Chrouk" for 4 people:
4 eggs
Minimum 1 kg pork belly without skin
150g brown sugar for the caramel made
2 garlic
3 star anise "Illicium Verum"
1 tablespoon fish sauce
1 tablespoon light soy sauce
2 bamboo shoots cut into 4 lengthwise
500ml water
Kampot pepper
Recipe Preparation
in a large enough to hold all ingredients prepared caramel careful not to let it burn dish.
after completion of caramel add 500 ml of water splashing boiling attention to the sugar will harden in contact with cold water is continued normal cooking and stir the sugar will recast.
for cooking pork caramel fire must be at maximum, then add the meat previously stripped of skin, light soy sauce, fish sauce and garlic. have let it cook for about 30 minutes.

after 30

minutes of cooking

to

a

low heat

then added

star anise

, bamboo

and eggs

and monitored

and stir

continuously until

the water

with caramel

sauce

becomes

very thick

and be careful

not

leave

burnt

caramel

otherwise it will

a bad taste

.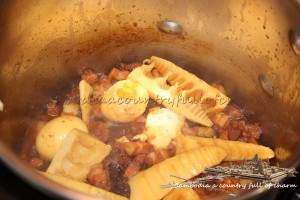 this dish is made with real caramel sauce unlike the recipe described on another page and also has the advantage of making very creamy and tasty meat in the mouth as well because it is accompanied by the caramel sauce but also because the cooking time is much longer than 45 minutes on average, which also reduced the meat is for this reason that you need a minimum of 1 kg of meat. the combination of bamboo, eggs and caramel goes perfectly well. caramel pork goes well with hot fragrant rice