Rice noodles are a popular ingredient in Asian cuisine and pair perfectly with fresh vegetables and protein. For this recipe, we added mung bean sprouts for a crunchy texture and roasted peanuts for an intense, slightly sweet flavor. To add a touch of acidity, we used limes, which pair beautifully with the flavors of soy sauce and oyster sauce. And to top it off, we added fried eggs, for a protein boost and an original presentation. Preparing this recipe is quick and easy. Simply cook the rice noodles, toss them with the vegetables and sauces, then prepare the fried eggs and arrange them over the stir-fried noodles. A little chopped fresh chives and fried onions will add a touch of color and crunch. We therefore invite you to be tempted by this recipe for sautéed rice noodles with fried egg, for a gustatory journey to Asia and an explosion of flavors in the mouth. Enjoy your food !
Fried rice noodles with fried egg
Discover our recipe for stir-fried rice noodles with fried egg, a tasty and quick to prepare Asian dish. The noodles come with crunchy vegetables, roasted peanuts, and a savory sauce made from soy sauce, oyster sauce, and lime. Fried eggs add a splash of protein and color to this delicious and easy to make dish. Try it now for a unique culinary experience!
Detailed recipe fried rice noodles for
4

people
Ingrédients :
300g rice noodles
150g mung bean sprouts
4 eggs
40g roasted peanuts
4 limes
4 tbsp peanut oil
2 tbsp sugar
3 tbsp soy sauce
2 tbsp oyster sauce
chopped fresh chives
fried onions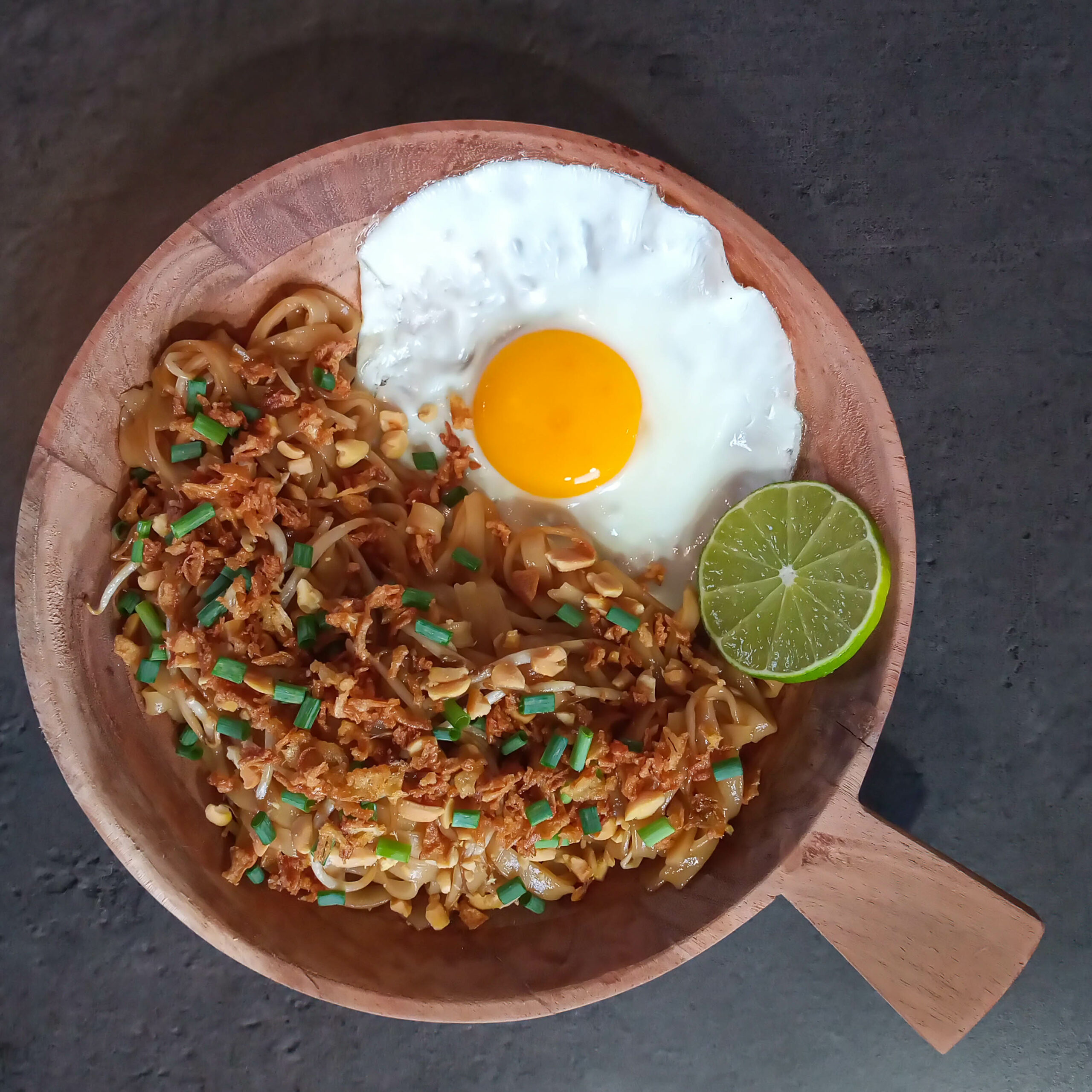 Instructions :
Start by boiling water and add the rice noodles. Let them cook according to the instructions on the package. Meanwhile, halve the onions, chop the peanuts, cut half the limes into wedges and juice the other half.
In a large skillet or wok, heat half the peanut oil and add the onions and mung bean sprouts. Briefly sear the mixture over high heat, then reduce the heat and add the sugar, soy sauce, oyster sauce and lime juice. Mix well, then add the cooked noodles and chopped peanuts. Season with soy sauce if necessary.
For the fried eggs, use the remaining peanut oil to heat a skillet over medium heat. Carefully crack the eggs into the pan and cook until the whites are firm and the yolks are still runny. Then, arrange the eggs over the fried noodle mixture.
For the finishing touch, garnish the dish with an extra lime wedge, fresh chopped chives and fried onions. Serve immediately and enjoy this tasty and easy to make dish!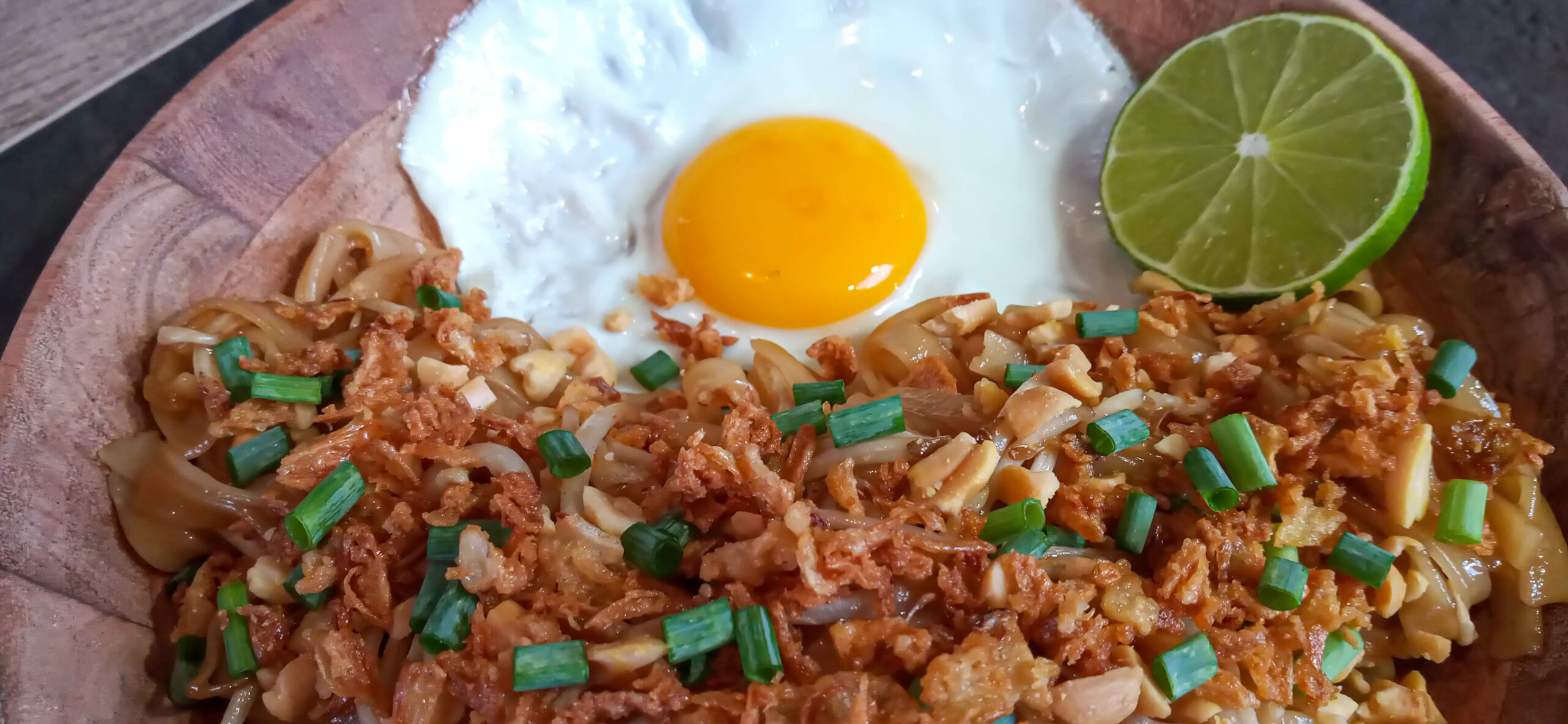 With its unique flavors and simplicity of preparation, this recipe for stir-fried rice noodles with fried egg is an ideal dish for a quick and delicious meal. Lightly crunchy rice noodles, fresh vegetables, roasted peanuts and fried eggs pair perfectly with soy sauce and oyster sauce for an authentic Asian dining experience. Try this recipe today for a quick and tasty meal you can make anytime. With its unique combination of ingredients, this recipe is sure to satisfy your taste buds and be a hit at your table. Don't forget to share this recipe with your friends and family to introduce them to this delicious and easy to make dish!