Explore the exotic delights of Num Pang Caramelized Pork: a culinary creation that will transport you to the bustling streets of Cambodia. Let yourself be seduced by this perfect marriage of aromas and textures, combining the tenderness of caramelized pork with the crunchy freshness of cucumber and carrot. Each bite takes you on a captivating taste journey. Imagine yourself enjoying this tasty sandwich, prepared with care and passion. The grilled French baguette offers a crispy texture that marries divinely with the generous filling of tender and fragrant pork. Fresh herbs, such as coriander, add a herbaceous note that awakens your senses and brings a welcome touch of freshness. To top it all off, a tangy mayonnaise sauce elevates every bite, offering an explosion of flavors that will tantalize your taste buds. Whether you are a fan of Asian cuisine or looking to discover new flavors, the Num Pang Caramelized Pork is a culinary experience not to be missed. This sandwich is more than just a simple meal: it's a taste journey that transports you to distant lands, where bold flavors and harmonious combinations reign supreme. Prepare it for a culinary getaway at home or share it at gatherings with friends and let yourself be enchanted by this explosion of flavors. Be inspired by this recipe and invite Asia to your plate. The Num Pang Caramelized Pork is a real invitation to explore new taste horizons, to arouse your culinary curiosity and to let yourself be carried away by the bewitching flavors of this Cambodian specialty. Get ready for an unforgettable taste experience!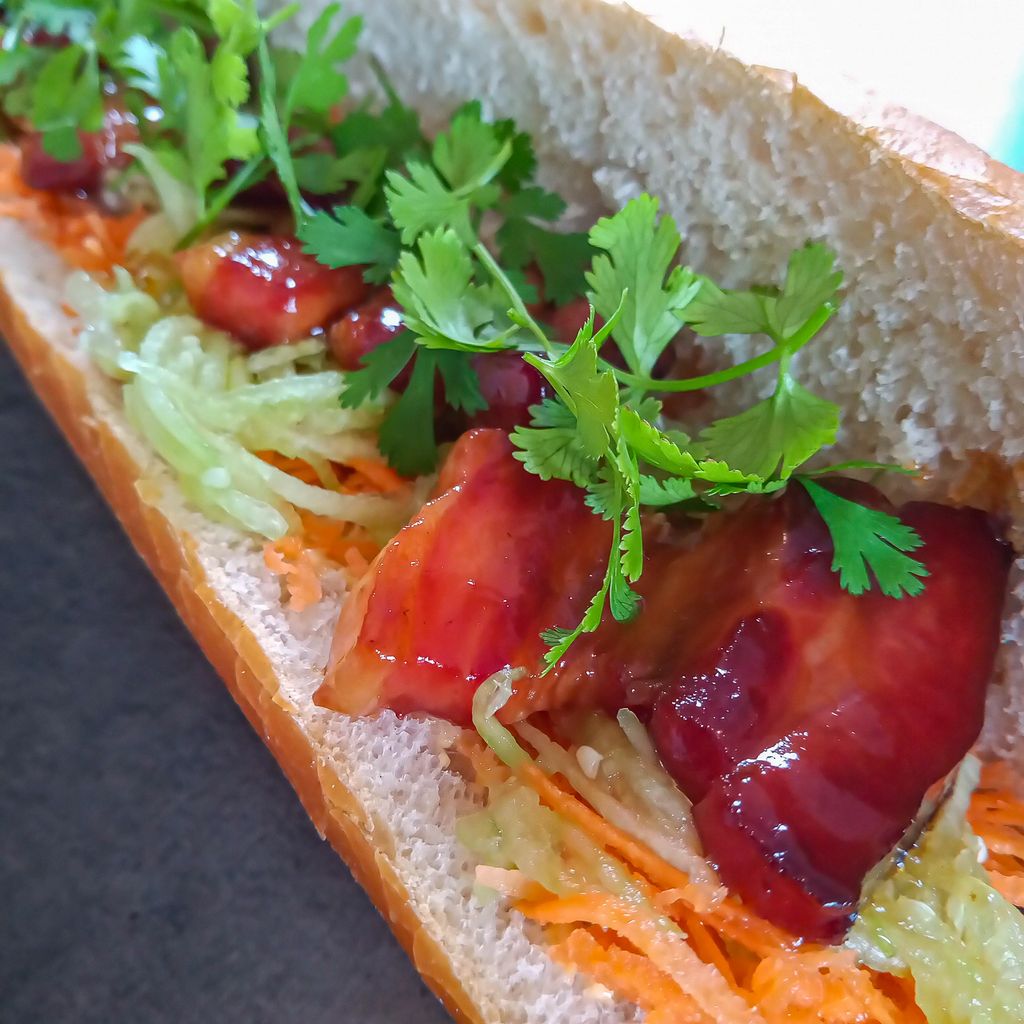 Num Pang Caramelized Pork
Discover the recipe for Num Pang Caramelized Pork, a delicious Cambodian-inspired sandwich. Caramelized pork, combined with crunchy cucumber and carrot, is wrapped in a grilled baguette, all seasoned with a spicy mayonnaise sauce. A blend of irresistible flavors and textures to enjoy with ease. Prepare this tasty sandwich and make your taste buds travel to Asia.
Detailed recipe Num Pang Caramelized Pork for
1

people
Ingrédients :
1 toasted half French baguette
200g caramelized pork belly
grated cucumber
Grated carrots
Fresh coriander
60g brown sugar
60ml water
1 tablespoon sweet soy sauce
1 tablespoon nuoc mam sauce
Spicy mayonnaise sauce
Instructions :
Prepare pieces of pork belly meat and put them in a very hot wok.
When the meat begins to cook, add the sugar and mix well. Let the sugar start to caramelize.
Then add water and simmer for 15 minutes.
Then add the soy sauce and nuoc mam sauce. Mix well and simmer for 5 minutes.
Meanwhile, prepare the baguette by cutting it lengthwise on one side.
Add the spicy mayonnaise sauce to one side of the baguette, then add the grated carrots and cucumber along the length.
Arrange the pieces of caramelized pork on the grated vegetables and cover with fresh coriander.
Once you have prepared your delicious Caramelized Pork Num Pang, all you have to do is taste it and savor every bite. The combination of tender, caramelized pork with the refreshing crunch of cucumber and carrot, all lifted by the tangy mayonnaise sauce, is simply irresistible. Fresh cilantro brings an aromatic and fresh touch that perfectly complements the flavors of this Asian sandwich. The contrast between the crispy texture of the toasted baguette and the tenderness of the pork provides a most pleasant taste experience. Whether it's a quick lunch, an outdoor picnic, or a night out with friends, Num Pang Caramelized Pork is a delicious and satisfying meal option. Its unique blend of flavors and textures makes it an ideal choice for lovers of Asian cuisine. So, gather your ingredients, follow the simple recipe steps, and prepare to feast on this Cambodia-inspired sandwich. Enjoy every bite and share this unique culinary experience with your loved ones. Enjoy your food !