Shrimps pad thai recipe for 2 people
• 150g rice noodles
• 200 g shelled prawns
• 150 g mung bean sprouts
• 150 g carrots, thinly sliced
• 1 C. at s. olive oil
• 1 clove of garlic crushed and finely chopped
• 1 chopped shallot
• 3 tbsp. at s. pad thai sauce
• 1 C. at s. nuoc mam sauce
• 1 C. c. brown sugar
• 1 lime
• 1⁄2 tsp. c. chilli puree
• 1 C. at s. crushed peanuts
• A few fresh coriander leaves
PREPARATION
Boil water to cook the rice noodles, stir and cook for 4 minutes
Drain them then put them aside.
In a wok, sauté the garlic and shallot in the oil. Then add the prawns, carrots,
rice noodles and mung bean sprouts. Mix well and cook for 5 minutes.
For the recipe sauce, mix the pad thai sauce with the chilli puree and the juice of half a lime and the brown sugar in a container and mix well.
Add the noodles to the wok and then pour the sauce over the noodles, mix well and let them
cook for a few more minutes.
Serve the shrimps pad Thai in a bowl and sprinkle with peanuts, coriander and add a slice of lime for decoration and also for its juice.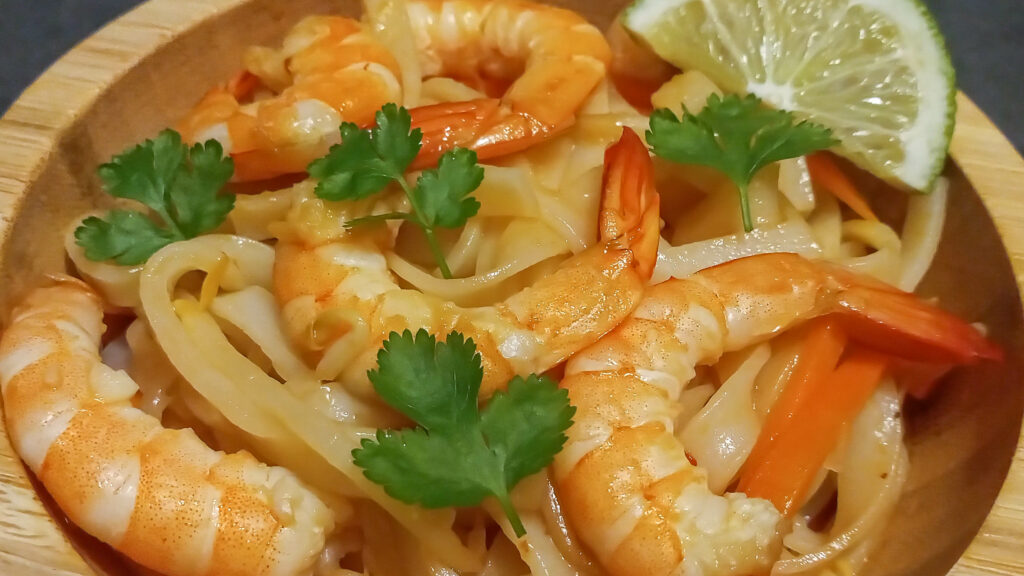 A recipe of Thai origin, but you will find the dish of Pad Thai with prawns especially in
many restaurants and markets of Cambodia with a Khmer touch.