Banteay Meanchey Province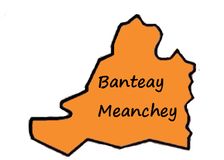 Banteay Meanchey Province " Fortress of Victory " in Khmer is located in the northwest of Cambodia 's border with Thailand . Banteay Meanchey covers an area of ​​6679 km2 and is divided into nine districts. it has 64 towns and 624 villages.

accommodation and meal Banteay Meanchey
you will have no problem to accommodate you during your stay you can restored in restaurants and markets.  
visit Banteay Meanchey
Banteay Meanchey Province is not known to travelers as essential places to visit, but as a region that is to go through Cambodia to Thailand and vice versa which is a shame.
adventurous travelers will find plenty of opportunities to enjoy the natural beauty of the province of Banteay Meanchey and enjoy the authentic Khmer Culture

temple
the main attraction of the province of Banteay Meanchey is the 12th century temple of Banteay Chhmar built under Jayavarman VII between the 12th and 13th centuries.
less known than all the temples of the city of Angkor Wat Banteay Chhmar is a good alternative to Angkor Wat and well worth a visit.
surrounded by lush vegetation Banteay Chhmar outside the temples of Angkor Wat also has massive stones enigmatic smile of the Bayon style .
scenes of daily life and Cambodian mythical battles carved sandstone are present in its abundance.
the Banteay Chhmar is probably one of the most intriguing of the Khmer empire as well for its isolation level for its temples , Banteay Chhmar perfectly embodies the image of a former Khmer cited .
other small temples in the vicinity including Prasat Mebon , Ta ​​Prohm, Muk Buon Prom , Yeay Choun , Pranang Ta Sok and Prasat Ciem Trey , but despite their state of ruin you will find beautiful sculpture hiding in the ruins during your walk in the heart of this city.