Battambang province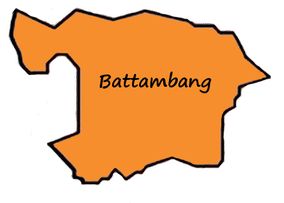 Battambang province is located in north- western Cambodia . Battambang shares a border with Thailand . Battambang province covers an area of ​​11,702 km ² and is divided into 13 districts . it has 96 towns and 741 villages. Battambang province in the second most populous city after Phnom Penh which is none other than Battambang provincial capital .

accommodation and meals in Battambang
you will not have any problem for you as well stay in a hotel in a guesthouse and you can eat very easily as well as in restaurants in markets where you will find no difficulty fruits and other good things to eat.
visit battambag
this city is a very popular destination for both the French colonial architecture, but also for the famous and mythical bamboo train, Buddhist shrines.
the province of Battambang is a destination where you can see many things and photo enthusiasts can look forward to make great photos of the landscape of the province of Battambang .
during your stay you can also go to Kam Pinh Puoy one of the largest dams built by hand during the Khmer Rouge , which now represents a lake 1900 m wide and 19 km long, or Cambodian like to spend their weekend with family .
the countryside abounds standby pagodas , ruins of Angkor era where you can stroll and enjoy the view
in the province of Battambang is also found Samlout area or located near 330km ² wet protect rainforest or cohabiting tigers, elephants , bears , leopards , epic pigs and many other protected species