Kampong Thom province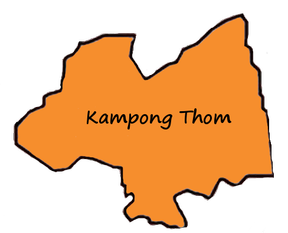 Kampong Thom province is the second largest province in Cambodia by region . it is located in the creel Cambodia Kampong Thom in an area of ​​13,814 km ² and is divided into eight districts.
accommodation and meals in Kampong Thom
you will find no difficulty for you as well stay in a hotel than a guesthouse . to dine there will be nothing difficult for the simple reason that it is the area between Phnom Penh and Siem Reap which means that all travelers stop in the province of Kampong Thom in order to make pause, but especially for their meal .
visit Kampong Thom
 Kampong Thom province is full of beautiful scenery contemplated , but there are also places to visit like
Prasat Nokor Kuhak built between the 10th and 11th century by King Suryavarman I, the temple is located in the village of Trodork Poung Village, Pong Ror commune .
Prasat Kok Rokar small tower, built in the late 11th century under the reign of King Suryavarman I
Sambo Prey Kuk cultural site located in the village of Sambo , Sambo prey kuk is located approximately 25 km from Kampong Thom .
Sambo prey kuk was once a religious center for the worship of Shiva Brahmanism .


Wat Kampong Thom in the pagoda you can see many statues connected with the life of Buddha.

pagoda offers a cool place for visitors and a place to relax