Mondulkiri province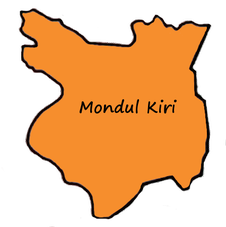 Mondulkiri province is located in eastern Cambodia and southern Rattana Kiri . Mondul Kiri province covers an area of ​​14,288 km ² and is divided into five districts. it has 21 towns and 98 villages.
accommodation and meals in Mondulkiri

to accommodate you during your stay or passing through the province of Mondulkiri you find hotels and guesthouses without too much difficulty. you will find no difficulty restaurant, but good food in Cambodian markets and street vendors
visite Mondulkiri
Mondolkiri province is also called the "Switzerland of Cambodia" for its landscape of spruce and the green hills, you will find beautiful landscapes where you can walk there and take beautiful pictures of the waterfalls.
you will also be organizing a walk during your stay in the lush jungle on elephant back and enjoy the virgin landscape of the jungle, but the invigorating freshness of the jungle and waterfalls that you will encounter in the heart of the jungle Mondulkiri and where you can enjoy to make very pretty pictures.
Province Mondulkiri you can also discover other waterfall as the Bou Sra waterfall located in Pich Chenda, a very popular place for Cambodia as well as to cool it to picnics with family and between friends . waterfalls its beautiful and well worth your attention.
waterfall is located Chrey Thom has Monorum Sen is a natural waterfall surrounded by green forest. Chrey Thom Waterfall is one of the most beautiful tourist attractions Mondul Kiri, the waterfall is very popular with tourists for its natural beauty, freshness, relaxation and picture will be waiting for you.
waterfall Lak Pok Bras is located in the town of Romanea, you can swim and enjoy this spectacular waterfall, you will be able to make a picnic in the shade of the trees and enjoy the fresh air and scenery .
you can if you want to enjoy the rivers to practice the pleasure of fishing if you are a fisherman, do not hesitate to bring your fishing rod to enjoy the rivers in the province Mondulkiri and to fish many fish.
for lovers of nature and animals you can also go to Phnom Prich Sanctuary is one of the most popular tourist sanctuary Mondulkiri. this shrine is known for its beautiful rivers and the sprawling tropical forests. upon your arrival you can contemplate the beauty of the landscape, but also organize excursions, but you can also camp in the forest if you wish for it provisions exist.
Sanctuary was created with the help of WWF and houses endangered species like tigers, elephant, wild water buffalo, jungle cat, giant ibis, cranes and much of other. if you love nature and animals during your stay then you need to go to Cambodia in Phnom Prich Sanctuary