province of Siem Reap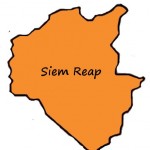 province of Siem Reap "capital of Khmer temples" is located in northwestern Cambodia between the Tonle Sap, Oddar Meanchey, Banteay Meanchey. Siem Reap extends over an area of ​​10299 km ² and is divided into 12 districts. it has 100 communes and 907 villages.
board and lodging in

the Siem

Reap
be it a hotel or guesthouse you will find no problem to accommodate you during your stay for your meal either in a restaurant or in different markets you can enjoy the Khmer specialties without difficulty.
visit province Siem Reap
when we say Siem Reap province or we all just said Siem Reap necessarily all we think the kingdom of Angkor Wat. who does not know or has not heard of the temples of Angkor Wat?
you can not come visit Cambodia without coming in the Siem Reap to visit the temples of Angkor Wat all so beautiful one than the other. to arrange your visit to the temples of Angkor Wat different you will find easily guides, but also tuk tuk to take you to different temples of Angkor Wat for your visits.
Tonle Sap is all just the largest freshwater lake in Asia with an area of ​​2700 km ² per meter of depth in normal times and about 16,000 km ² to nine meters during the monsoon is all just the pool of Asia. the flow of the Tonle Sap changes direction twice a year with the different levels of the Mekong River during the rainy season.