Province Phnom Penh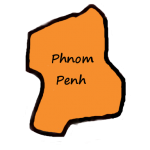 Province Phnom Penh which is also the capital of Cambodia is located at the confluence of the Tonle Sap and Mekong. Province Phnom Penh covers an area of ​​290 km ² and is divided into 8 districts.
accommodation and meals in the province of Phnom Penh
you will have no problem to accommodate you during your stay in province Phnom Penh and you can restored in the many restaurants and markets that make up the city.
visit Phnom Penh
for visits to Phnom Penh you will have what you hold during your stay. you want to make beautiful photo during your stay or even learn the history of the country you will find no difficulty outputs that correspond to your needs. the Royal Palace in Phnom Penh a very touristy place that is a destination not to be missed, a quiet and beautiful place where you can learn the history of the Royal Palace in Phnom Penh with guides who will accompany you.
the National Museum of Cambodia a very touristy place, but not only is the main historical and archaeological museum of Cambodia where you can see and learn the history of the country. The museum contains the largest collection of Khmer art which represents more than 14 000 different objects of Khmer history from prehistory to the time of the Khmer empire.
Tuol Sleng or S-21 is simply the prison in Phnom Penh or any prisoner who arrived during the occupation of the Khmer Rouge are never came out alive.
different markets of Phnom Penh are also places to see such as the Central Market Psar Thmey "new market" a symbol of Phnom Penh with its dome 26 meters high, you'll find all both jewelry, clothing, appliances that food. Market Psar Thmey well worth a visit during your stay have to admire its construction.
Phnom Penh is full of variety of places to visit including small Buddhist temples or simply called Wat Phnom pagoda as "Hill Temple" which is also a popular place to walk and enjoy both by tourists and by the Khmer who there are also many family between friends.