Ratanakiri province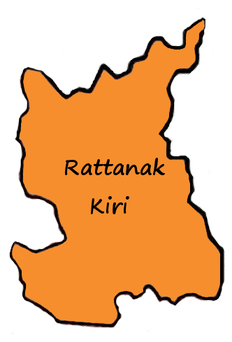 Ratanakiri province is located in the northeast of Cambodia border of Laos and Vietnam. Ratanakiri covers an area of ​​10,782 km ² and is divided into 9 districts. it comprises 50 communes and 240 villages.
accommodation and

meal

Ratanakiri
you will have no problem to accommodate you during your stay you can quickly restored to restaurants and markets in the province of Ratanakiri.
visit

Ratanakiri



in Ratanakiri province you will find many different places visited all as Beung Yeak Loam which is located in the town of Yeak Loam, this mountain lake formed in an ancient volcano there centuries is a destination not to be missed . the lake is about 800m in diameter and a depth of 48m during the dry season. the water is so clear that this lake is ideal for bathing and you can even have a picnic, but be careful you need to bring your own food and drinks because you can find not be sellers.
Ka Chanh waterfall located in the town of Ka Chanh waterfall is 12m and is very suitable for them to make a good picnic. On-site there is even the possibility of elephant rides.
Lumphat Wildlife Sanctuary located 37 km south of Banlung has an area of ​​250,000 ha. this sanctuary is a popular tourist attraction in the province of Ratanakiri for tigers, elephants and vultures red head.
National Park protect Virachey website is located north-east of Cambodia, the park is an ideal place for lovers of hiking, nature photos and jungle course with a local guide to accompany you and guide you during your excursion.