Stung Treng province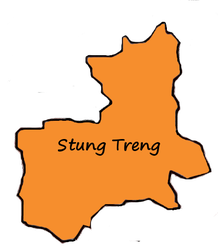 Stung Treng province formerly called "Xieng Teng" is located in the northeast of Cambodia Laos border. the province of Stung Treng. Stung Treng covers an area of ​​11,092 km ² and is divided into five districts.
accommodation and

meal

Stung

Treng
for your stay you will find hotel and guesthouse for your meals and you will find restaurants, itinerant merchants and markets provided food for you without too much difficulty.
visit Stung Treng
Stung Treng province is full of different places to visit, such as Mekong dolphins on rivers Stung Teng and Kratie . the visit is very advisable for the simple reason that this kind of freshwater dolphins is one of the latest in the world existed in total freedom and show emotion warranty.
Kantuy Ko near the village of Samki , this is the place where you should go if you enjoy fresh air observed the green nature and animals. you can see animals like the tiger and protect other species as threatened . this place is one of the most visited sights Stung Treng .
Phnom Preah Theat is a natural sanctuary located in Thmey village and is one of the main attractions in Stung Treng or tourists flock to see the dense forests of the reserve and rare wildlife . walking through the jungle is possible trail have been built , but the rides are only allowed with a professional guide for the tourist to avoid bad encounters with wild animals. Despite this protection visiting this jungle is quite possible and the guide is to guide you .