Svay Rieng province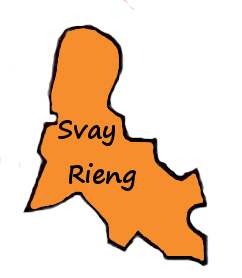 Svay Rieng province is probably one of the smallest provinces of Cambodia located in the southeast of the country near the border with Vietnam, the National Highway No. 1 reread Phnom Penh and Ho Chi Minh City in Vietnam just after the Mekong via the ferry point Loeung Neak . Svay Rieng province is about 2966 km ². The province consists of 8 districts , 80 communes and 690 villages
accommodation and meal Svay Rieng
it is a thriving city that reaps the benefits of the traffic of border trade . There is a lively market and there is easy access to good food in markets and restaurants and great places to stay .

visit Svay Rieng
was found near the river and vast Waiko picturesque marshes provide a pleasant setting for passionate photography. close to the town is a bridge over the river Waiko that was offered by Prime Minister Hun Sen
the attraction of this beautiful province is not only in its amenities , the friendly character, beautiful Prey Ba Sak Lake area just outside of the city and the temple of Prasat make an interesting stop . there are also two small temple ruins known in Svay Rieng , they are Prasat Prasat Chea Hao Basac visited during your stay.
the province of Svay Rieng is off the tourist maps , but in spite of that for travelers who want it is ideal for those who want a slice of rural life in Cambodia and of course enjoy the scenery and tranquility of the countryside.
Taxi Svay Rieng - Ho Chi Minh City
$ 45.08–100.10
1h 5m – 1h 35m
→

SUV 4pax

→

Economy 2pax

→

Van 11pax

→

SUV 3pax

→

Comfort

→

Van 9pax

→

Economy

→

Minibus 13pax

→

SUV 5pax