Takeo province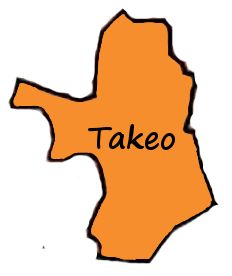 Takeo province is located south of Cambodia's border with Vietnam. Takeo province covers an area of ​​3,563 km ² and is divided into 10 districts. Takeo province has 100 municipalities and 1,117 villages.
accommodation and meal Takeo
for your stay you will also find many hotels that you stay guesthouses for you and your family. for your meals either in the different markets of the province or restaurants you will find no difficulty right place for all your meals.
visit takeo
in Takeo province you can see there both beautiful landscape, but also places to visit like Wat Phnom Khliang a small Buddhist pagoda built in the years 1750 in the town of Prey Slek. the site is a quiet and attracts many visitors to its pleasant environment to relax.
Ta Mao is a varied site consisting of temple, forest, mountain and a large zoo created with the participation of several NGO an area of ​​about 70 hectares that the area of ​​Ta Mao is 2500 hectares then imagined walks and scenery that you can see and photograph.
Museum Takeo popular tourists to learn the life of the province, where we can see numerous objects of life in Cambodia and particularly the province.
Chup Pol Temple is located in the village of Doun Peaeng, Chup Pol Temple is a sacred site and belongs to the category of buildings and coveted by tour historical sites.
Neang Khmao is a small temple located in the town of Rovieng, was originally the site built in the 10th century by King Jayavarman IV counted three temples, but only two are currently still present but damaged with the passage of time. these temples really worth a visit during your stay in Takeo province.
Phnom Bayong is a small temple dating from the 7th century in the village of Por Rorng, the temple was built on a small mountain of 300m by King Pavavarman II. the site attracts a lot of tourists to Cambodia and the beauty and tranquility of the place, but also for other temples around 4 Kampoul Kanang, mountain-Preah Kor temple Kanang North and East Kanang temple.