Sihanoukville province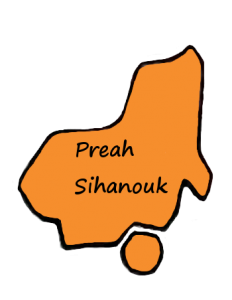 Sihanoukville Province is a province on the southern coast of Cambodia . Sihanoukville province covers an area of ​​868 km ² and is divided into three districts it was founded in 1960 after the independence of France .
Sihanoukville Province consists of three districts and 22 municipalities .
accommodation and meals in Sihanoukville
Sihanoukville province is very touristy with the white sand beaches you will find no problem to accommodate you during your stay and also find many good restaurants for your meals easily and also markets .
visit Sihanoukville province
Kbal Chhay Waterfall located in Khan Prey Nup is very popular by Cambodians as well as to cool to gather with family or friends . The waterfall is 14 meters high and powered by several different sources . Kbal Chhay Waterfall is a quiet and rest to discover during your stay .
Otres Beach a white sand beach where you will not find a hotel that gene landscape of this beautiful beach , but only small beach bars and restaurant to eat without having to leave the beach and browse kilometer to take a meal .
the island of Koh Rong Sihanoukville off with the white sandy beaches to discover during your stay .
Wat Krom located on a small hill is a historic site in the area dedicated to Ya-Mao a local deity .
Prampi Chaon Beach a small popular beach residents as well as for swimming to picnics with family or friends .
Ream Beach is located in the Ream National Park , Ream Beach is ideal for quiet retreat from the noise of cities and is a paradise for nature lovers there are also mangroves or just tucked it very many tropical birds .
Flight Sihanoukville - Phnom Penh
$ 111.38–178.14
3h 15m – 1d 3h 15m
Bus Sihanoukville - Phnom Penh
$ 10.77–17.63
3h – 6h
→

Universe Luxury

13:30, 19:00

→

Luxury

18:30, 19:30, 21:30

→

Hotel Bus

18:30, 20:00, 20:30

→

Air Bus

08:15, 12:45

→

Minibus

08:00, 08:30, 11:30, 11:45, 12:15, 12:30, 12:45, 14:30, 14:45, 16:30, 18:00

→

Seater 23

14:45

→

Night Bus

20:00, 21:00
Taxi Sihanoukville - Phnom Penh
$ 81.61–304.32
2h 30m – 5h 40m
→

Van 9pax

→

Comfort Car 3pax

→

SUV 4pax

→

Minivan 7pax

→

VIP Van 7pax

→

VIP Alphard 5pax
Train Sihanoukville - Phnom Penh
$ 11
7h
Van Sihanoukville - Phnom Penh
$ 13.71–16.55
3h – 3h 30m
→

Van 7pax

05:00, 06:00, 07:00, 14:00, 15:00

→

Van

09:00, 10:00, 11:00, 12:00, 16:00, 17:00, 18:00, 19:00

→

Van 15pax

07:00, 07:05, 07:30, 08:00, 08:05, 08:30, 09:00, 09:05, 09:30, 09:35, 10:00, 10:05, 10:30, 11:00, 11:01, 11:05, 11:30, 12:00, 12:05, 12:30, 13:00, 13:05, 13:30, 14:00, 14:05, 14:30, 15:00, 15:05, 15:30, 16:00, 16:05, 16:30, 17:00, 17:05, 17:30, 18:00, 18:05, 18:30, 19:00, 19:05, 19:30

→

Minivan

11:30, 14:30
Ferry Sihanoukville - Koh Rong Samloem
$ 13–24.48
30m – 1h 15m
→

High Speed Ferry

09:00, 12:00, 15:00

→

Speedboat

08:00, 08:30, 09:00, 11:30, 12:00, 14:00, 14:30, 15:00, 17:00

→

Ferry

08:00, 09:00, 09:30, 12:00, 13:30, 15:00