ingredients of the cooking khmer
whatever the ingredients of the cooking khmer use, cooks in different parts of Cambodia will always have a little trick to identify a dish to give it a unique flavor that will not end enchant you during your meal.
ingredients based on plant
This also makes the wealth of Cambodia is also the diversity of its food products both grown in different provinces of Cambodia as natural food ingredients that go into the kitchen with Khmer for which have found a great diversity of dishes.
the country with the vast extended by fields in the countryside and agriculture is very present, there is normal to figure out the various ingredients of the cooking khmer a wide variety of fruits, vegetables and herbs as well as cultivate wild in the recipes of Cambodia.
to also find the list of plants of ingredients of the cooking khmer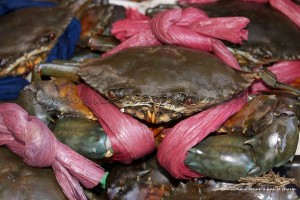 ingredients based on fish
the greatest variety of freshwater fish to fish for cooking comes primarily from the Mekong , Tonle but also in Siem Reap which is also the largest lake in Asia , namely as the fish is also included in the ingredients of the cooking khmer with the completion of Prahok is a fermented fish paste recognizable with strong odors that can be used for cooked recipes in various ways including the achievement of the famous national dishes Amok very popular with Cambodians and also tourists .
ingredients based on rice
all the provinces cultivated rice and different varieties of rice of very good quality as jasmine rice long rice, white and fragrant which enters the ingredients of the Khmer cuisine as well as an accompaniment dishes like Amok, but both flour for making certain recipes like Chakrey Chan and many other recipes yet.
lists of ingredients of the cooking khmer
Kafir lemon, lemongrass, galangal, star anise or star anise, Turmeric, water bindweed, banana flower, holy basil.
Kroeung: herb paste made with galangal, a kind of ginger, turmeric, very orange, also family of ginger, garlic, shallots, kafir lemon and rhizome.