Spices of Khmer cooking
If the Cambodia cuisine owes its flavor to the different varieties of spices of Khmer cooking as Kampot pepper and spices used in various food preparations Cambodian cuisine such as Lemongrass , it does not mean that too spicy these neighboring countries such as Thailand , so the spices of Khmer cooking perfectly suitable for tourists unaccustomed palate .
Cambodian, incorporates different spices of Cambodia cuisine sparingly making dishes of Khmer cuisine very fragrant and an unmatched flavor , with meals we always note the slightly acidic aromatic flavors data such as the lemongrass , Combaya , Kaffir leaves and even Tamarin , some dishes are even made from certain plants or vegetables a bitter taste quite unusual and even unknown to the Western …
The majority of dishes are flavored with leaves and various herbs, some of which are also used in Western cuisine , but a large majority of herbs used as a spices of Khmer cooking are little known or even completely unknown to the public abroad .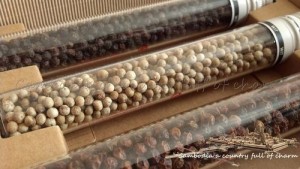 List of Khmer cooking spices
Explore detailed fact sheets on the spices used in Khmer cuisine below, full of tips for using them and even growing instructions. Find out how to incorporate the exotic flavors of Cambodian cuisine into your dishes by learning how to grow certain spices at home, suited to the climate of your country or region. Make your taste buds travel and create authentic dishes by mastering the secrets of the spices of Khmer cuisine, aromas that will awaken your senses and transport you to the heart of Cambodia.