In the kitchen, some dishes stand out for their ability to evoke taste memories and transport our taste buds to new culinary experiences. Among these culinary treasures, caramelized braised pork stands out for its magical combination of textures and exquisite flavors. Imagine yourself in front of a plate filled with tender pieces of pork, their golden and crispy skin inviting you to an irresistible first bite. As you experience the tenderness of pork belly, a symphony of tastes unfolds in your mouth. Soy sauce, with its perfect balance of salty and umami, blends harmoniously with the subtle sweetness of palm sugar, creating a bewitching caramelized flavor. Dried shiitake mushrooms add earthiness and aromatic depth to every bite, while minced garlic elevates it all with its signature spiciness. To perfect this taste symphony, hard-boiled eggs complete the picture, offering a velvety texture and an explosion of flavors when you taste them with the pork and its reduced sauce. Accompanied by Cambodian rice, this caramelized braised pork becomes a real feast for the senses. Each spoonful is an invitation to escape on a culinary journey where captivating aromas and delicate textures meet to create a memorable experience. So let yourself be tempted by this recipe which combines tradition and creativity, and discover the pleasure of tasting an exceptional caramelized braised pork. Get ready to savor every bite in awe, as this deliciously appetizing dish will captivate your palate and make your taste buds dance.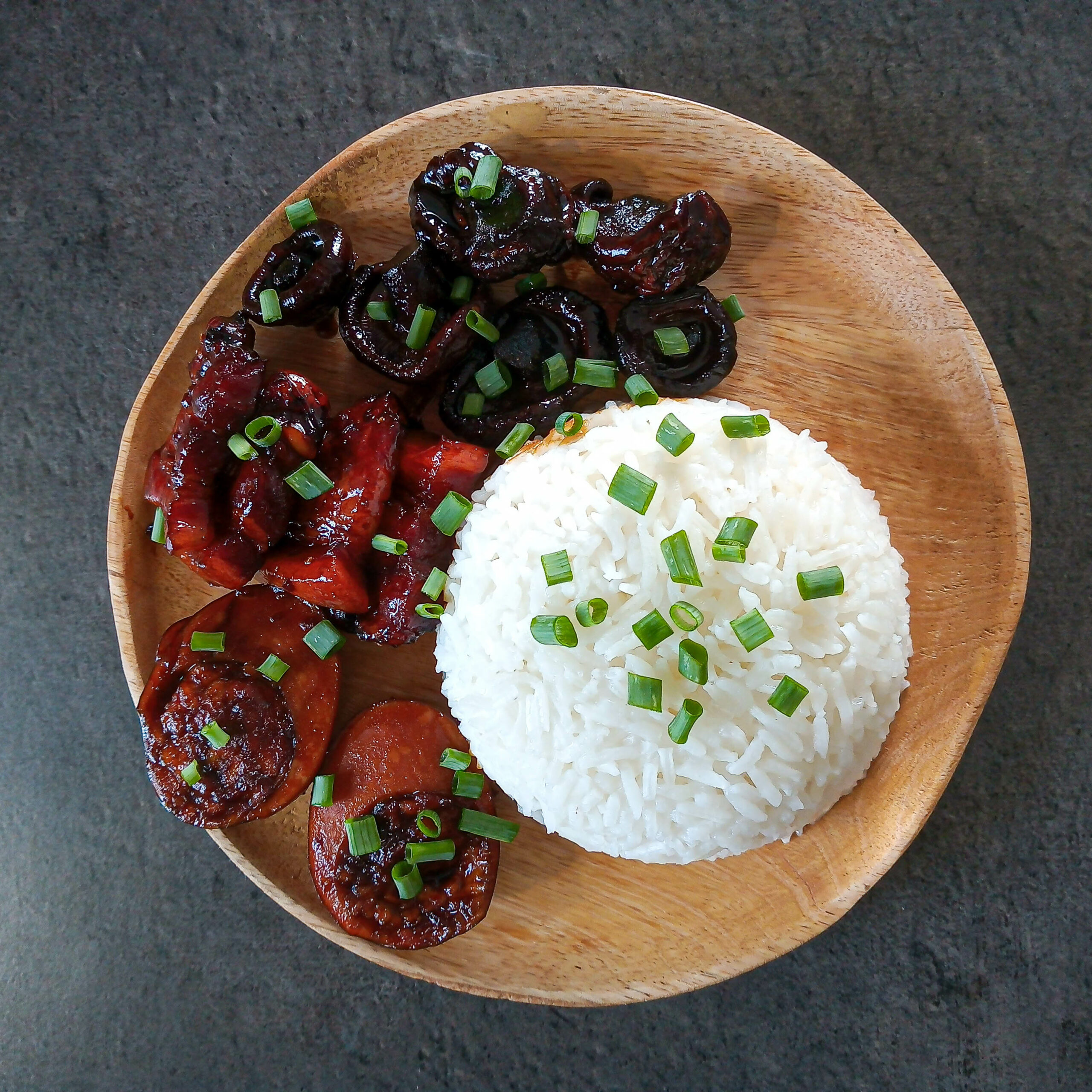 Caramelized Braised Pork
Detailed recipe Caramelized braised pork for
4

people
Ingrédients :
Pork belly
2 tbsp cooking oil
4 boiled eggs
1 tbsp dark soy sauce
150ml water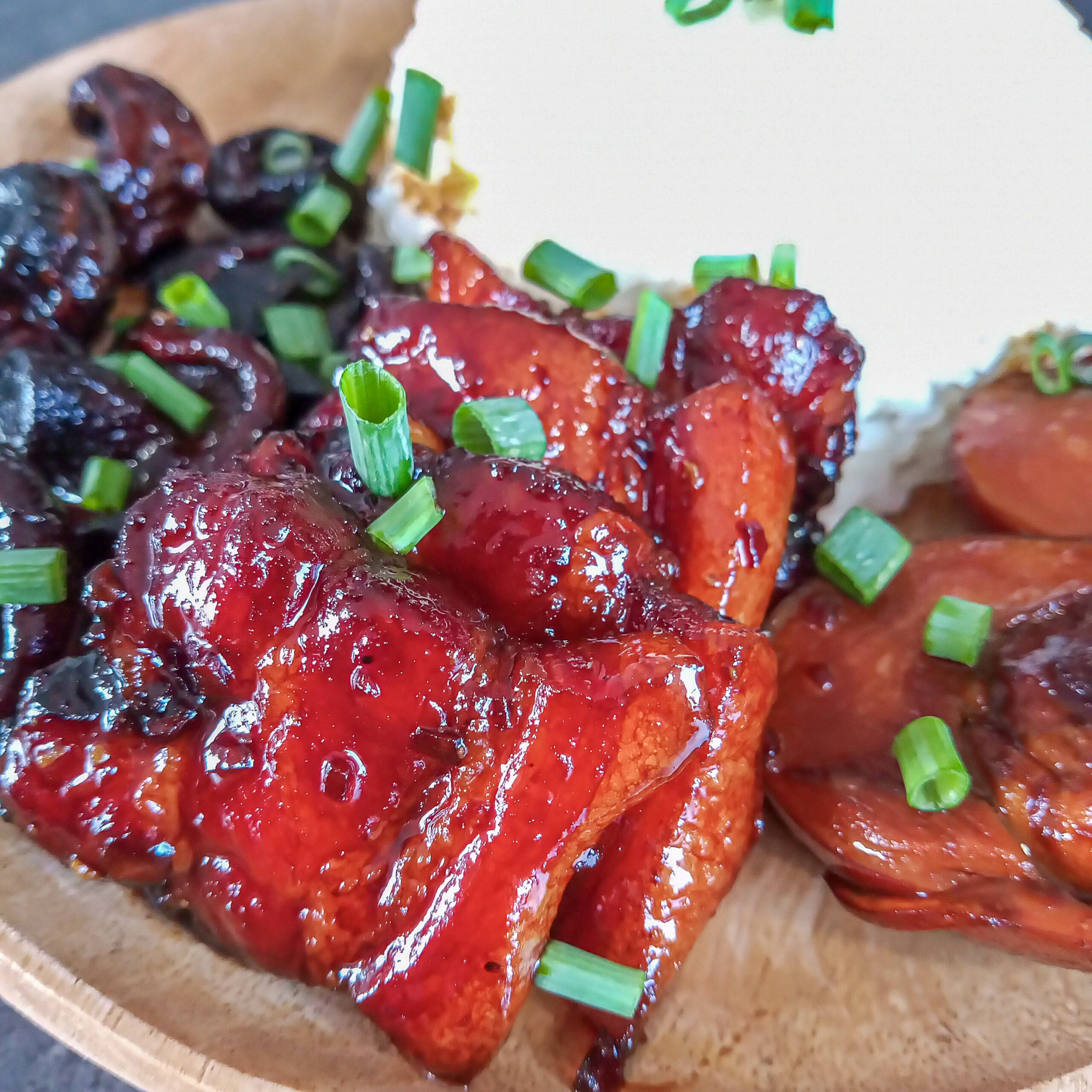 Instructions :
Prepare hard-boiled eggs.
Soak the 9 dried shiitake mushrooms in boiling water for 10 minutes.
Chop the 5 cloves of garlic.
Cut the pork belly skin into small pieces.
In order to enrich the flavor, pour 2 tablespoons of cooking oil and brown the pork. The main goal is to make the skin crispy. Do not overcook the meat side or the meat will be stiff. If cooking oil splatters, use a lid to cover it.
Place the skin side down until it turns golden brown.
When the meat begins to brown, add the sugar and garlic, then add the soy sauces and mix well with the star anise. Keep stirring until you can smell its aroma.
Add the soaked dried shiitake mushrooms and mix.
Add the water, mix and simmer with the eggs.
The sauce will thicken during cooking, this is normal.
After cooking, serve with an egg, some mushrooms and Cambodian rice.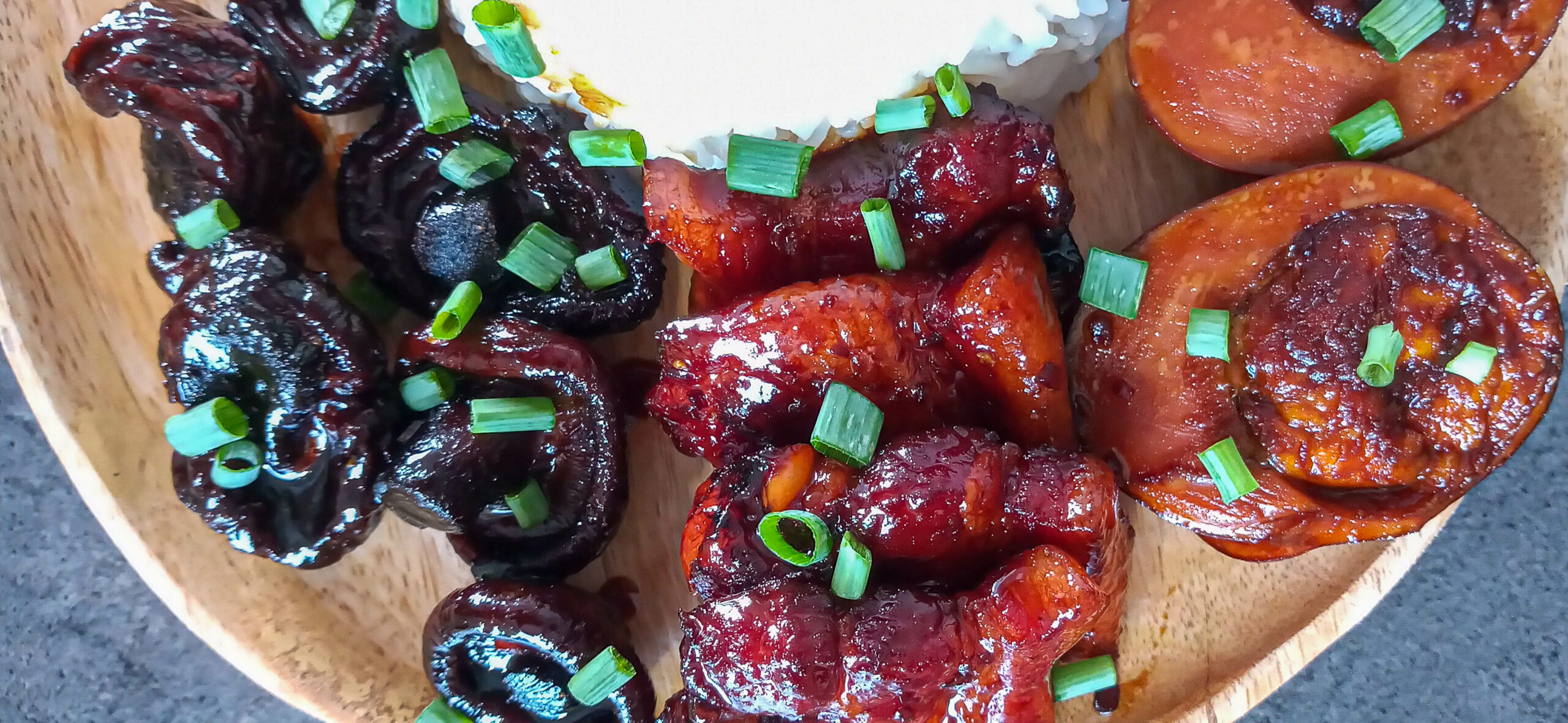 Here, your delicious caramelized braised pork is ready to be tasted! This savory recipe combines the tenderness of pork belly with the rich flavors of garlic, shiitake mushrooms and soy sauces. Palm sugar adds a subtle sweetness, while hard-boiled eggs and Cambodian rice round out this balanced dish perfectly. When serving your caramelized braised pork, be sure to present the pork pieces with the crispy skin side up, topped with a hard-boiled egg and some shiitake mushrooms. Serve it all with a generous helping of Cambodian rice to soak up the delicious flavors of the thickened sauce. This comforting dish is ideal for sharing a meal with family or friends. Enjoy every bite and let yourself be carried away by the delicate flavors and savory textures of caramelized braised pork. Enjoy your food !