Fried ravioli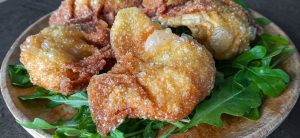 In the vast world of Asian cuisine, there is a culinary gem that seduces taste buds around the world: fried ravioli. These little crunchy delights combine elegance with an explosion of flavors. It is a taste experience that transports diners to the bustling streets of Asian markets, where the tempting scents and creativity of culinary artisans are in the spotlight.
When we think of fried ravioli, we immediately think of a perfect harmony between the delicacy of the dough and the generosity of the stuffing. These little bundles of joy are often stuffed with tender meat, juicy shrimp and fresh vegetables. The magic is in how these ingredients come together to create a symphony of flavors and textures.
Their preparation requires meticulous care, each ravioli being designed with love and precision. Ravioli dough sheets are expertly shaped around the filling, creating pockets of pleasure. Once dipped in hot oil, these treasures transform into golden, crispy wonders. Fried ravioli are not only an ode to Asian cuisine, but also an invitation to discovery. They offer a glimpse into the culinary traditions that are passed down from generation to generation, as well as a look at the ingenuity of those who prepare them. Each bite is a stroll through the bustling streets of China, Thailand or Japan.
These exquisite dishes transcend cultural boundaries and unite food lovers around the world. Whether as a side dish, snack or main dish, fried ravioli have a special place on holiday tables, family gatherings and moments of sharing with friends.
So, whether you are an experienced cook or a curious novice, indulge in this taste adventure and delve into the art of preparing and enjoying fried dumplings. It's an experience that will delight your senses and nourish your soul, an invitation to explore the delights of Asia with every bite.
Prep Time

30 min

Cook Time

5 min

Total Time

35 min

number of persons

6
Ingredients
Yellow ravioli dough sheets (available in the fresh section of Asian supermarkets, usually sold in packs of approximately 36 to 37 sheets)
300 g minced pork or chicken
200 g small cooked shrimp
100 g

Chinese cabbage

, finely chopped
30 g slices of Chinese black mushrooms
1 tsp sesame oil
1 tbsp toasted sesame seeds
1

onion

, finely chopped
4 tbsp peanut oil
1 tbsp sweet soy sauce
1 clove of

garlic

, minced
Method
1
Soak the mushrooms in a bowl of hot water. In a pan, brown the finely chopped onion in the peanut oil. Add the meat, the cabbage cut very fine, the drained mushrooms, then the shrimp. Brown everything for 5 minutes until the meat is cooked. Add the rest of the ingredients (sesame oil, sesame seeds, soy sauce, garlic). Take off heat and let cool.
2
Spread the ravioli sheets on a clean surface. Moisten the edges with water. Place a teaspoon of stuffing in the center of each leaf, then fold in the edges, pressing firmly and giving a quarter turn.
3
To finish, place the ravioli on a plate and let them rest in the refrigerator for 10 minutes. After this rest time, fry the ravioli in small quantities in a deep fryer for about 5 minutes, until golden brown. Serve immediately.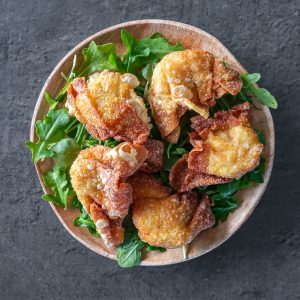 And there you have it, you have finished preparing these delicious fried ravioli! These little crunchy wonders are ready to be enjoyed and delight your taste buds. Whether it's a family gathering, a meal with friends or simply a solo gourmet evening, these fried ravioli bring a touch of elegance and exquisite flavors to every occasion.
Serve them hot to fully appreciate their crispness and tasty topping. You can serve them with a slightly sweet soy sauce or hot sauce for an even more thrilling experience. Feel free to top them with a few extra toasted sesame seeds for an irresistible touch of crunch.
Share these fried ravioli with your loved ones and enjoy the smiles that light up the faces of those who taste them. Cuisine is a universal language that unites people around the table, creating warm memories and unforgettable moments.
We hope this recipe has inspired you to explore new flavors and venture into the exciting world of Asian cuisine. Enjoy your meal and may each bite transport you to yet unknown taste horizons!