Market Phnom Penh
| french | english |
| --- | --- |
| | |
Market Phnom Penh
first of all " Phsar " which means " market " in Khmer whose visit at least one of the traditional Phsar is really unavoidable and even advise while traveling in Cambodia .
the typical traditional markets is extended at ground level affair , outdoor but covered . market Phnom Penh  are often crowded with rows of booths and stalls, but is still a magical place for tourists looking for adventure and discovery .
while you visit one or two markets in Phnom Penh .


starting with the Phsar Tuol Thom Poung (Russian Market) Phsar Thmey and the (central market) Both offer trinkets, souvenir and a cultural center .
in other the markets such as Phsar Chas (Old Market) have much less trinkets and souvenir for tourists , but also culturally and photography markets can be graphically very interesting .
for hourly traditional market Phnom Penh open and close with the sun .
different markets of Phnom Penh to visit :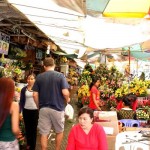 " Phsar Thmey " Central Market with its dome
26 m and 19 m from the wings built in 1935
see page here
" Phsar Char " Old Market Phnom Penh with these
fruits and vegetables in Cambodia
see page here
" Phsar Toul Tom Poung " Russian Market Phnom Penh and the
Krama famous Khmer discover
see page here