Central Market of Phnom Penh
| french | english |
| --- | --- |
| | |
Central Market of Phnom Penh
Thmey correctly translated means "new market."
it was decided to be built in order to better meet the needs of the population of Phnom Penh growing in 1934.
the distinctive building in the central market is a symbol of Phnom Penh with its dome 26 meters high a unique interpretation of the Art Deco style of a traditional market.
with four arms converge on a central market of Phnom Penh soaring dome 26 meters in height and four arms, perhaps reflecting the Chaktomuk (convergence of the Mekong River).
Before 1935, the market area was a swamp / lake known as Beng Decho that reçevai runoff during the rainy season.
after drying and drained the lake construction began in 1935 under the direction of architects Louis Chauchon and Wladimir Kandaouroff, during the French colonial period.
its inauguration in 1937, the market was considered the largest market in Asia and one of the largest in the world, even today the building with a dome 26 meters high and 19 meters of the wings remains fully functional.
the central part of the building of the central market of Phnom Penh displays an amazing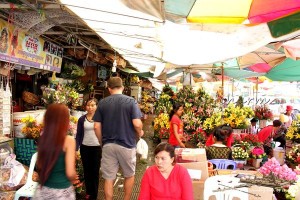 collection of gems and jewelery, souvenir vendors along the stalls offering trinkets, sta handerah silks, t-shirts, postcards, book and map etc. . sellers are sitting on either side of the main entrance of the market.
the central market of Phnom Penh there are also sellers of fruits and vegetables of the country whose stalls are very impressive both for the quantity as there are from sellers, but also for mixing colors and smells of various fruits and vegetables.
there are particular fish vendors, shell and crab including the famous crab Kep . fishmongers' slabs are also very impressive in the wealth of different species of fish and shellfish from Cambodia offer for sale well and conscientiously keep on beds of ice crushing.
[smartslider2 slider="9"]