Fried Shrimp with Sweet and Sour Mango Sauce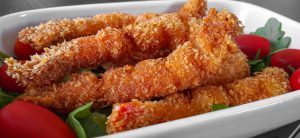 Fried Shrimp with Sweet and Sour Mango Sauce : A Cambodian Gourmet Fusion
In the infinite universe of gastronomy, there are culinary creations that transcend borders and cultures to become true gems of fusion cuisine. Among these taste treasures, the fried shrimp with sweet and sour mango sauce is a real shining star.
This recipe transports us to the exotic lands of Cambodia, where the art of combining flavors takes on its full meaning. Shrimp, jewels of the sea, are treated with meticulous attention to reveal their best profile. Each shrimp is delicately peeled, then lightly incised to remain elegantly straight when frying.
The magic happens when these shrimps, impregnated with a homemade tempura batter subtly flavored with garlic, are immersed in delicate Panko breadcrumbs. The result is a perfectly golden crispy crust that hides juicy and tender flesh.
Accompanying this work of culinary art is the sweet and sour mango sauce, a sweet yet tangy creation that dances on the palate. Fresh mango, palm sugar, rice vinegar, fresh ginger and chili peppers come together to create a symphony of exotic flavors. It is an experience that awakens all the senses.
These fried shrimp with sweet and sour mango sauce are more than just an appetizer; they are a taste adventure, a harmonious fusion of cultures and tastes. Each bite transports you to a remote corner of the world, where spicy flavors mingle with tropical sweetness.
Whether to impress your guests on a special evening or simply to treat yourself to a moment of delight at home, this recipe is a true culinary treasure. Serve these shrimps with elegance and enjoy them with pleasure, letting yourself be carried away by the story they tell through each flavor and texture. Bon appetit, and may every moment be a celebration of fusion cuisine and gastronomic discovery.
Prep Time

10 min

Cook Time

5 min

Total Time

15 min

number of persons

4
Ingredients
for the sweet and sour mango sauce :
100g fresh mango
50g

palm sugar

180 ml of water
2 tablespoons of rice vinegar
2 teaspoons chopped fresh ginger
1 chopped chili peppers only for hot sauce
1 large clove of

garlic

, chopped
for the prawns :
8 large prawns
1 clove of garlic
Panko preparation
Frying oil
Method
For the sweet and sour mango sauce :
1
Cut the mango into cubes.
2
In a small saucepan, bring all the ingredients to a boil.
3
Reduce heat and simmer for 10 minutes.
4
Remove from heat and let cool.
5
Using a blender, puree the mixture into a smooth puree.
6
Transfer to a small bowl and let cool completely. The sauce will keep for 1 week in an airtight container in the refrigerator.
For the prawns :
7
Shell the raw prawns by removing their heads. Be sure to also remove the intestines (a black wire) using a pick if necessary. They are usually found in the middle of the back.
8
Using a knife, make a slight incision on the back of each shrimp, starting from the middle of its belly to the end of the tail. Press lightly so that the shrimp stays straight when cooking.
9
Prepare the Penko preparation as indicated on the sachet and add the chopped garlic. Season the dough with salt and pepper.
11
Dip each shrimp in the flour, making sure they are completely covered, then dip them in the egg yolk to cover them well then roll them in the Panko breadcrumbs.
12
Fry the shrimp in small batches for a few minutes, until crisp and golden brown.
13
Serve immediately with the mango sauce for a complete taste pleasure.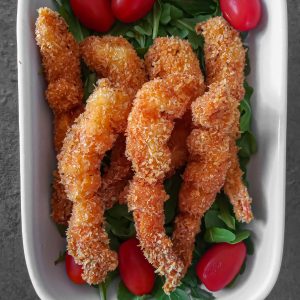 And here we come to the end of this exquisite culinary adventure. Fried shrimp with sweet and sour mango sauce is not just an appetizer, but a real gastronomic experience. The subtle flavors of Asia and the exotic freshness of mango come together to create a dish that tantalizes the senses.
With every bite, you'll feel the crispy crust of the shrimp, combined with the sweet and tangy sweetness of the mango sauce. It's a magical combination that will make your aperitif an unforgettable moment.
When you serve these shrimp to your guests, you're sharing more than just a recipe; you share an experience, a story of flavors and discoveries. You take them on a culinary journey to Cambodia, even without leaving your table.
Do not hesitate to accompany these shrimps with a dry white wine or a sparkling drink for even more elegance. Whatever the time or occasion, this recipe brings a touch of sophistication and deliciousness to every gathering.
So, treat yourself to these fried shrimps with sweet and sour mango sauce, and enjoy your guests' appreciation for this unique culinary creation. Enjoy your meal, and may each bite remind you of the pleasure of discovery and sharing.