Lemongrass marinated beef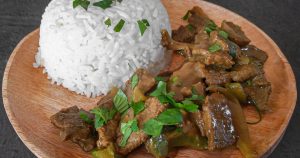 Lemongrass marinated beef recipe
Let yourself be carried away on a culinary journey with Lemongrass Marinated Beef which will transport you to the heart of South-East Asia, to the land of ancient temples and green rice fields. Our destination today is Cambodia, a land where exotic flavors and ancestral traditions merge to create exceptional cuisine.
At the heart of this taste experience is "Khmer Lemongrass Marinated Beef," a Cambodian specialty that perfectly embodies the subtle balance between bold flavors and refined sweetness. It is a symphony of flavors that awakens the taste buds and evokes the lively streets of Phnom Penh, the fragrant markets of Siem Reap and peaceful evenings on the banks of the Mekong.
The star ingredient of this culinary adventure is lemongrass, a fresh, citrusy herb that adds an exotic, fragrant touch to every bite. It is combined with other treasures of Khmer cuisine such as ginger, garlic, onion, soy sauce and fresh coriander to create a captivating marinade.
The beef, marinated in this magical concoction, becomes a blank canvas ready to absorb all the aromas and spices that make it exceptional. Once cooked in a hot wok, the meat takes on golden colors and incomparable tenderness.
This dish is much more than just a meal; it is an invitation to explore the flavors of a rich and diverse culture. Each bite is a dance of mouth sensations, a perfect balance of salty, sweet, lemony and spicy.
Serve it with sautéed vegetables for a touch of freshness and crunch, or with Cambodian rice for an authentic experience. Sprinkle it with fresh cilantro for a final touch of greenery and freshness.
"Khmer-style Lemongrass Marinated Beef" is much more than a dish; it is an immersion in Cambodian culture. It evokes memories of travel, meeting warm people and exploring distant lands. So, let yourself be seduced by this culinary adventure and enjoy each bite as a unique sensory experience.
Prep Time

10 min

Cook Time

15 min

Total Time

25 min

number of persons

4
Cuisine

type of dishes

Cooking Method
Ingredients
for the mea t:
400 g of beef
2 tablespoons of olive oil
For the marinade :
Method
Preparing the marinade :
1
Peel and slice the ginger, onion and lemongrass stalk. You can crush them with a mortar if you have one.
2
Peel and degerm the garlic cloves, then crush them with the back of a knife.
3
Arrange the meat in a dish and pour the soy sauce over it.
4
Add the onion, ginger, garlic, lemongrass, coriander stalks and half the sugar to the dish with the meat.
5
Cover the dish with plastic wrap and refrigerate for 6 hours or overnight to allow the meat to marinate well.
Cooking :
6
Heat a frying pan or wok over high heat and add the olive oil.
7
When the oil is hot, add the meat and the marinade.
8
As soon as it boils, add the rest of the sugar to the wok.
9
Reduce the mixture to a syrupy consistency, stirring occasionally. This will take around 10-15 minutes.
10
Serve the lemongrass-marinated beef hot, accompanied by sautéed vegetables or Cambodian rice.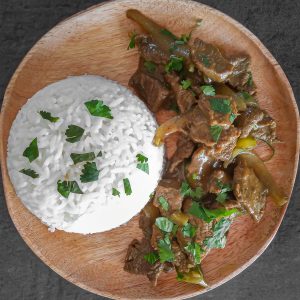 Congratulations, you have successfully prepared a dish that evokes the rich palette of flavors of Cambodian cuisine! Your lemongrass-marinated beef is ready to enjoy, and it's hard to resist the anticipation of the deliciousness that awaits you.
This dish embodies the harmony between spices, fresh herbs and basic ingredients that characterize Cambodian cuisine. Lemongrass, with its lemony scent and unique flavor, imbues the meat with its freshness, while ginger adds a subtly spicy note. The garlic and onion provide deep flavors, and the soy sauce adds a rich savory complexity to the whole thing.
When you serve this dish, the explosion of flavors is a true celebration for the senses. The tender meat, impregnated with the exquisite marinade, offers an unforgettable taste experience. The sweet and syrupy nuances of the sugar caramel balance the flavors, creating a perfect balance.
For the accompaniment, you have the choice between sautéed vegetables which provide a crunchy texture and a touch of freshness, or Cambodian rice, whose simplicity allows you to highlight the flavors of the marinated beef.
Don't forget to garnish your dish with chopped fresh cilantro for an extra touch of color and freshness. You can also add a little chili pepper for those who like spicy dishes.
By sharing this meal with your loved ones, you can introduce them to the delights of Cambodian cuisine and create unforgettable memories around the table. Savor every bite, enjoy the explosion of flavors and let yourself be transported to Asia with this authentic culinary experience.
We hope that this taste journey was a success and that this recipe will become a must-have in your culinary repertoire. Enjoy your food !