Saté Chicken and Vegetables : An Explosion of Flavors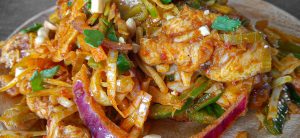 Cambodian Recipe : Chicken Saté and Vegetables, a Gourmet Journey
The art of Cambodian cuisine is an unforgettable taste adventure that invites you on an exotic sensory journey. Among the jewels of this cuisine, "Chicken satay" stands out for its fusion of intense flavors and its vibrant palette of colors. A dish that embodies the vibrant soul of Cambodia.
At the heart of this recipe, satay reveals itself like a shining star, bringing a sweet and spicy touch that captivates the taste buds. The tender pieces of chicken marinated in this fragrant mixture are adorned with a symphony of aromas, while the crunchy vegetables offer a welcome freshness.
Leek, cabbage, carrots and green pepper come together in a swirl of colors and textures, creating a web of flavors that is both bold and balanced. Spices and soy sauce enrich this culinary picture, offering unparalleled depth and complexity.
Cambodian cuisine not only satisfies the palate, it also awakens the soul. The freshness of the ingredients, the accuracy of the seasonings and the meticulous preparation reveal a culinary culture that celebrates the passion for food.
This "Chicken Satay" is much more than just a meal, it is a sensory adventure that transports you to the lively streets of Phnom Penh. Each bite brings you closer to the authentic flavors of this distant land.
Feel free to personalize your experience by adding fresh cilantro for a refreshing herbaceous note and crunchy peanuts for unparalleled texture. And don't forget to accompany it with freshly cooked rice to complete this culinary experience.
So, invite your loved ones to join you on a taste journey to Cambodia without leaving your kitchen. Cambodian "Chicken Satay" is much more than just a dish, it is a culinary adventure that honors the richness and diversity of this exceptional cuisine. Enjoy every bite, share this treasure and let yourself be carried away by the very essence of Cambodian cuisine.
Cambodian Satay Chicken: An Explosion of Exotic Flavors to Discover
Prep Time

15 min

Cook Time

10 min

Total Time

25 min

number of persons

4
Cuisine

type of dishes

Cooking Method
Ingredients
For the meat :
2 chicken fillets
2 tablespoons of satay powder
10 cl of oil
2 tablespoons of soy sauce
Fresh coriander
Peanuts
For the vegetables :
Method
Preparing the mango sauce
1
Cut the chicken fillets into pieces, then place them in a bowl. Add the oil, satay powder and soy sauce. Leave to marinate for at least 2 hours.
2
Prepare the vegetables by cutting and slicing them. Set them aside.
3
In a wok, heat the marinated chicken with its marinade and cook until the chicken is cooked through.
4
Add the vegetables to the wok and cook over high heat for a few minutes to keep them crunchy.
5
Stir well while cooking to blend the flavors.
6
Serve hot and garnish with fresh coriander and crushed peanuts. You can accompany this dish with rice.
And there you have it, you have managed to create a true culinary masterpiece with this Cambodian Satay Chicken! This dish offers a burst of captivating flavors that will transport you straight to the bustling streets of Phnom Penh. The combination of satay powder, soy sauce, and spices gives you a balanced blend of sweetness and heat that deliciously tickles your taste buds.
The chicken, marinated in this fragrant concoction, is incredibly tender and soaks up the aromas of the satay. The vegetables, cut with care, add a touch of freshness and color to this exotic dish. Leeks, cabbage, carrots and green pepper create a rainbow of flavors and textures.
While cooking in the wok, be sure to stir well to ensure that every bite is a festival of flavors. The secret to Cambodian cuisine lies in preserving the crunchiness of vegetables while developing a depth of flavor.
Garnishing this dish with fresh cilantro and crunchy peanuts adds herbaceous notes and an irresistible texture. It's an explosion of flavors in every bite.
Serve your Cambodian Satay Chicken hot, accompanied by a bed of freshly cooked rice. The rice will absorb the flavors of the satay sauce and perfectly complement the richness of the dish.
Share this delicacy with your friends and family to introduce them to the hidden treasures of Cambodian cuisine. Take advantage of this unique culinary experience and enjoy! May this dish remind you of the scents and flavors of Southeast Asia and transport you to distant culinary lands. Enjoy your food !