satay chicken and papaya and green mango salad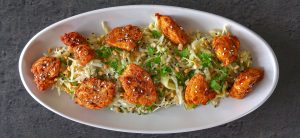 Chicken Satay and Papaya and Green Mango Salad: A Balanced and Flavored Cambodian Feast
In Cambodian cuisine, the subtle blend of flavors and textures is a true symphony for the taste buds. One of the most delectable representations of this taste harmony is undoubtedly the "Chicken satay and papaya and green mango salad". A culinary journey to Southeast Asia, this recipe transports us to the bustling streets of Phnom Penh and the fragrant markets of Cambodia.
At the heart of this taste experience is the chicken satay, prepared with a marinade rich in spices, from which captivating aromas emanate. Sate powder, fresh ginger, and garlic combine to give the chicken a flavor that is both bold and comforting. It is tender, slightly spicy, and incredibly fragrant thanks to the meticulous preparation.
The star of the side dish is the papaya and green mango salad. Grated papaya and green mango bring unparalleled freshness, while roasted peanuts and sesame seeds add an irresistible crunch. Everything is held together by a delicate vinaigrette, composed of nuoc nam and palm sugar, which perfectly balances the tangy and sweet side of the fruits.
Fresh coriander brings a herbaceous touch that enhances the whole, giving depth and extra dimension to each bite. The result is a salad of rare elegance, a delicate balance between the flavors of land and sea, enhanced by the sweetness of tropical fruits.
This versatile dish can be enjoyed hot or cold, and is suitable for all occasions. Whether for a quick lunch or a festive dinner, the "Chicken Satay with Papaya and Green Mango Salad" is a tribute to the diversity of Cambodian cuisine, capturing the very essence of this rich culinary tradition.
By preparing this recipe, you embark on a taste journey to the heart of Asia, you discover new flavors, and you share a culinary experience that testifies to the creativity and delicacy of Cambodian cuisine. Enjoy every bite and let yourself be carried away by the enchanting flavors of this culinary marvel.
Prep Time

15 min

Cook Time

10 min

Total Time

25 min

number of persons

4
Cuisine

type of dishes

Cooking Method
Ingredients
for meat :
For the salad :
1/2 green papaya
1 green mango
Peanuts
2 tbsp sesame seeds
2 tbsp of nuoc nam
2 tsp palm sugar
Fresh

coriander
Method
Preparing the mango sauce
1
Prepare the satay marinade: In a bowl, mix the satay powder, oil, grated ginger and minced garlic. Cut the chicken fillets into pieces and add them to the marinade. Leave to marinate for at least two hours.
2
Prepare the papaya and mango salad: Peel and grate the green papaya and green mango. Add the crushed peanuts, sesame seeds, palm sugar, nuoc nam and a few fresh coriander leaves. Mix all the ingredients for the salad well.
3
Cook the chicken: Heat a wok over medium-high heat. Add the marinated chicken and cook until nicely browned and cooked through, about 5-7 minutes per side.
4
Serve the chicken hot or cold with the papaya and mango salad.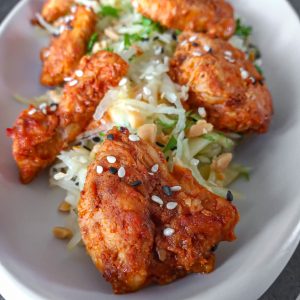 Congratulations, you have now prepared a tasty and fragrant chicken satay, accompanied by a refreshing papaya and green mango salad. This dish skillfully combines bold flavors with the freshness of tropical fruits, creating an unforgettable dining experience.
The chicken, marinated in a blend of spices and flavors, is both tender and spicy, perfectly complemented by the papaya and mango salad which adds a touch of crunch and sweetness. The notes of peanuts, sesame seeds, nuoc nam and palm sugar in the salad add a harmony of authentic flavors.
This dish is versatile, being enjoyed both hot and cold. You can serve it in any season to dazzle your guests or to treat yourself to a homemade meal full of character.
May this meal remind you of the delights of Cambodian cuisine and inspire you to further explore the gastronomic riches of the world. Enjoy every bite and share this feast with those you love. Enjoy your food !