papaya panga from Cambodia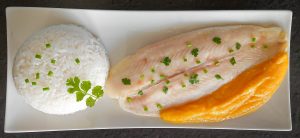 papaya panga from Cambodia
In the great mosaic of world cuisines, Cambodian gastronomy stands out for its exquisite flavors and culinary creativity. At the heart of this rich tradition is a recipe that perfectly embodies these characteristics: papaya panga.
Let yourself be taken on a taste journey through the Kingdom of Cambodia, where the balance of flavors is a true work of art. This harmonious dish combines the sweetness of ripe papaya with the freshness of panga fillets, creating a symphony of flavors that will delight your taste buds.
Papaya, an emblematic fruit of tropical regions, is the star of this preparation. It is transformed into a creamy sauce, enhanced by orange and lime juice, and enhanced with a touch of olive oil. This combination creates a sweet-tart blend that enhances the panga.
Panga fillets, tender and delicate, play the main role in this dish. They are carefully prepared, marinated in a mixture of olive oil and lime, then baked until the perfect texture. Cooking gives way to soft and tasty flesh which goes harmoniously with the papaya sauce.
To crown this creation, freshly chopped coriander brings a herbaceous and aromatic touch, while fresh lime wedges add a welcome note of acidity.
Papaya panga is more than just a dish, it is an invitation to explore the flavors of Cambodia, venture off the beaten track and create unforgettable culinary memories. Whether prepared for an evening with friends or for a solo gastronomic escapade, this dish will reveal all the magic of world cuisines in the comfort of your own kitchen.
May this taste journey inspire you to further discover the diversity of international flavors and venture into the art of Cambodian cuisine. Cambodian papaya panga is an ode to culinary creativity, a sensory experience that will leave a lasting impression.
Prep Time

20 min

Cook Time

25 min

Total Time

45 min

number of persons

2
Cuisine

type of dishes

Cooking Method
Ingredients
For the panga fillets :
2 panga fillets
Juice of 2 limes
2 tablespoons freshly chopped cilantro
Olive oil
Salt and pepper from the mill
For the papaya sauce :
1 ripe papaya
1 tablespoon of lime juice
1 tablespoon of olive oil
Salt and pepper, to taste
Method
Preparing the mango sauce
1
Preheat your oven to 180°C.
2
Place the panga fillets in a dish, skin side down. Drizzle them with a drizzle of olive oil and the juice of a lime. Season them with salt and freshly ground pepper.
3
Cover the dish with baking paper and cook the panga fillets in the preheated oven for 20 minutes, until cooked through and lightly browned.
4
While the panga fillets cook, prepare the papaya sauce. Cut the papaya in half, remove the seeds and peel each half to remove the flesh. Mix the papaya flesh with the lime juice and olive oil until you obtain a homogeneous puree.
5
Transfer the papaya sauce to a saucepan and heat over low heat for about 5 minutes, stirring regularly. Season the sauce with salt and pepper, to taste.
6
When the panga fillets are cooked, remove them from the oven and generously cover them with the papaya sauce.
7
Serve the panga fillets topped with papaya sauce, garnished with fresh lime wedges. Just before serving, sprinkle with freshly chopped coriander to add a touch of freshness and flavor.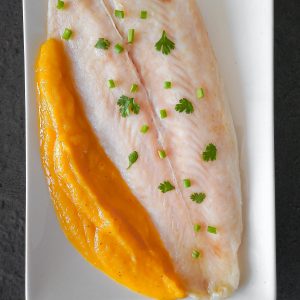 We hope this papaya panga recipe has transported you to the heart of the exotic flavors of Cambodia. With its combination of tender and fragrant panga fillets, topped with a delicious papaya sauce with sweet and tangy notes, each bite is a true explosion of flavors.
The freshness of the chopped coriander adds a herbaceous touch that perfectly balances the dish, while the lime wedges bring a slight acidity that enhances everything. This recipe offers you a memorable taste journey through the delights of Cambodian cuisine.
Whether this dish is the highlight of a dinner with friends or a solo cooking experience, we're confident you'll be delighted with the result. Share this recipe with your loved ones and enjoy this delicate and fragrant dish, symbol of the rich flavors of Cambodia. Enjoy your food !