Shrimp and vegetable wok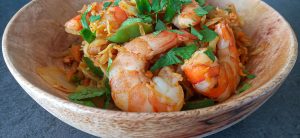 Wok Cambodian Shrimp and Vegetables with Authentic Flavor
At the heart of Southeast Asia, Cambodia reveals a fascinating gastronomic treasure. Its colorful, lively and noisy markets are the cradle of a cuisine that seduces with its captivating aromas and elegant simplicity. Today, we invite you on a taste journey to the land of thousand-year-old temples and endless rice fields with our recipe for "Shrimp and vegetable wok with authentic flavor."
This recipe perfectly embodies the spirit of Cambodian cuisine. The fresh shrimp, delicate and fragrant, are highlighted by a symphony of local ingredients. Fresh ginger adds a touch of subtle spiciness, while curry powder transports your taste buds to a world of delicate spices.
The addition of carrots, white cabbage, collard greens and green pepper gives this dish a palette of colors and textures that evoke the bustling markets of Phnom Penh. The vegetables are sautéed to perfection, retaining their crunch while absorbing the flavors of the soy sauce and curry.
The result ? A balanced dish, where each bite is an invitation to discovery. Each ingredient blends harmoniously to create a blend of flavors that reflects Cambodia's rich culinary heritage.
So, sit back comfortably, let yourself be carried away by the exotic scents wafting from your kitchen, and savor every moment of this Cambodian culinary journey. You are about to create a piece of the soul of Cambodia in your own home.
Prep Time

10 min

Cook Time

15 min

Total Time

25 min

number of persons

4
Cuisine

type of dishes

Cooking Method
Ingredients
500 g raw shrimp or prawns, peeled
200 g carrots, julienned
150 g white cabbage, chopped
150 g green cabbage, chopped
1/2 green pepper, cut into strips
4 tbsp olive oil
2 tsp red curry powder
1 yellow

onion

, chopped
3 cloves of garlic, minced
10 g fresh ginger, grated
1/2 red pepper, seeded and finely chopped (adjust quantity according to your preference for spiciness)
3 tbsp soy sauce
Method
1
Start by preparing all the ingredients, because wok cooking is quick.
2
In a large wok or skillet, heat 2 tablespoons of olive oil over medium heat.
3
Add the chopped onion, chopped garlic, and grated ginger to the wok. Sauté for about 1-2 minutes, until they become lightly golden and fragrant.
4
Add the peeled shrimp to the wok. Saute them for about 2 to 3 minutes, until they turn pink and opaque. Remove the shrimp from the wok and set aside.
5
In the same wok, add the remaining 2 tablespoons of olive oil, then add the julienne carrots, white cabbage, green cabbage and green pepper strips. Saute for about 5 minutes, stirring frequently, until the vegetables are tender-crisp.
6
Return the shrimp to the wok and add the curry powder, chopped red pepper, and soy sauce. Mix well to coat all the sauce ingredients.
7
Saute for another 2 to 3 minutes, making sure the shrimp is heated through and the flavors blend.
8
Serve the wok shrimp and vegetables hot, garnished with fresh coriander or chopped spring onion, if desired. You can also serve this dish with steamed rice or fried noodles.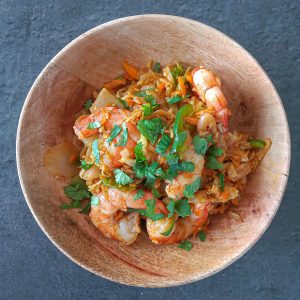 Congratulations, you have brilliantly prepared a Cambodian Shrimp and Vegetable Wok with an authentic flavor that has transported you to the bustling streets of Cambodia, where the market stalls are overflowing with unique colors, scents and flavors. Your plate is a true culinary journey to the heart of Southeast Asia, a sensory experience that allows you to discover the essence of Cambodian cuisine.
This recipe perfectly embodies the soul of this cuisine rich in history and diversity. Fresh shrimp, tender and deliciously fragrant, pairs wonderfully with the liveliness of fresh ginger and the subtle heat of curry powder. Crunchy vegetables, such as julienned carrots, white cabbage and green cabbage, add a nice texture to each bite, while strips of green pepper add a pop of freshness and color.
The blend of flavors is subtly balanced thanks to the soy sauce, which adds a touch of umami that ties all the elements together. Each bite is an exploration of Cambodian cuisine, a symphony of flavors that transports you beyond the boundaries of your kitchen.
To complete this culinary experience, we recommend serving your Cambodian Wok with a portion of fragrant steamed rice or fried noodles. You can also sprinkle your dish with finely chopped fresh cilantro for a touch of herbaceous freshness.
Remember that cooking is above all an experience to be shared. Invite your friends and family to your table to enjoy this Cambodian feast together. Share your culinary travel experiences, exchange stories and create unforgettable memories around this delicious dish.
So, may this recipe inspire you to continue your exploration of global cuisine, venture into new flavors, and discover the authenticity of each culture through food. You now hold a precious piece of Cambodian culinary tradition in your hands. Enjoy your food !