Fish Amok : A Culinary Treasure of Cambodia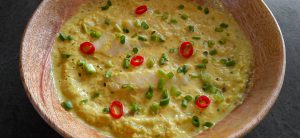 Fish Amok : A Cambodian Culinary Treasure
At the heart of the Indochinese peninsula, Cambodia reveals itself as a land of culinary treasures. Among the gems of its traditional cuisine is fish amok, an iconic dish that embodies the richness of flavors and the subtle art of Cambodian taste balance.
Amok, a true national heritage, is a fusion of scents, textures and colors that tells the story of this fascinating nation. At the center of this culinary work is Kroeung paste, a harmonious combination of fresh lemongrass, spicy galangal, vibrant turmeric, fragrant kaffir lime leaves, garlic, shallots and a hint of red chili pepper to awaken the taste buds.
When Kroeung paste meets fresh fish, creamy coconut milk, sweet palm sugar and salty fish sauce, a dance of flavors begins. Steaming in banana leaves adds a touch of nature to this gastronomic scene. The slightly crispy spinach leaves bring a welcome freshness to this texture-rich dish.
Fish Amok is more than just a meal; it's a taste experience that transports you to the bustling streets of Phnom Penh, to the remote villages of rural Cambodia, and to the banks of the country's peaceful rivers. It's a testament to the passion that Cambodians have for their cuisine, a passion that is passed down from generation to generation.
Served hot with fragrant Cambodian rice, Fish Amok is a tribute to Cambodia's abundant nature, rich culture and warm people. It is an invitation to explore the delights of this alluring cuisine and discover the beauty of this extraordinary country.
So, let yourself be carried away by Cambodian fish amok. It's much more than a dish. It's a journey to the heart of Cambodia's culinary soul, a sensory adventure that will leave you with unforgettable taste memories.


Savor the Exoticism of Cambodia with this Delicious Fish Amok
Prep Time

15 min

Cook Time

10 min

Total Time

25 min

number of persons

4
Cuisine

type of dishes

Cooking Method
Ingredients
for the kroeung dough
200 g lemongrass stalks
50 g of galangal
50 g of turmeric
10 kaffir lime leaves
5 cloves of garlic
2 shallots
1 red pepper
for the Amok
250 g of fish
1 tablespoon of fish sauce
1 tablespoon of palm sugar
1 beaten egg
100 g spinach leaves if steamed
Method
1
Prepare the kroeung dough by putting all the ingredients in a blender. If possible, finish mixing by using a pestle to make a smooth paste.
2
Once the kroeung dough is ready, heat a pan or wok. Add the kroeung paste, fish cut into pieces, palm sugar, fish sauce and beaten egg. Mix the ingredients well.
3
Simmer over low heat for 5 to 7 minutes, stirring occasionally. The sauce should thicken slightly.
4
If you have the option to prepare your Amok in banana leaf containers for steaming, place the spinach leaves at the bottom of each container. Pour the kroeung preparation with coconut milk, beaten egg, palm sugar and fish sauce over the spinach leaves. Arrange the pieces of fish on top.
5
Steam for about 15-20 minutes, until the fish is cooked through and the mixture is hot.
6
Serve hot, accompanied by Cambodian rice.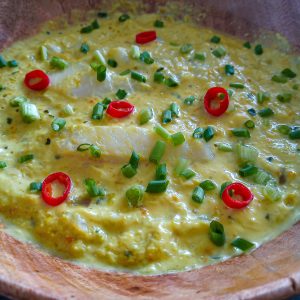 Cambodian Fish Amok is a delicious culinary adventure that takes you deep into the exotic flavors of Southeast Asia. The careful preparation of kroeung dough, with its aromas of lemongrass, galangal, turmeric and spices, forms the basis of this exceptional culinary creation.
When the scent of kroeung paste mixes with tender fish, creamy coconut milk, sweet palm sugar and salty fish sauce, a symphony of flavors is created on your plate. Spinach leaves add a touch of freshness and color to this already brightly flavored dish.
Served hot with Cambodian rice, fish amok is an unforgettable taste experience. When you taste this Cambodian specialty, you will be transported on a culinary journey that will awaken your senses and introduce you to the delights of traditional Cambodian cuisine.
Don't hesitate to share this dish with your loved ones to introduce them to part of Cambodia's rich gastronomic culture. Enjoy your food !