Ang Dtray Meuk : A Culinary Journey to the Heart of the Flavors of Cambodia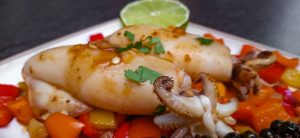 Ang Dtray Meuk : Discover the Flavors of Cambodia
Discover Ang Dtray Meuk, a delicious Cambodian squid recipe enhanced by exotic spices and authentic flavors. Immerse yourself in a captivating taste journey, where tenderness and crunch meet, accompanied by a symphony of intoxicating aromas. An exquisite dish that will tantalize your taste buds and transport you to the exotic shores of Cambodia.
Ang Dtray Meuk is much more than just a recipe, it is a captivating taste journey that transports you to the heart of the authentic flavors of Southeast Asia. Imagine yourself in the bustling alleys of Phnom Penh, surrounded by colorful stalls bursting with fresh, fragrant ingredients.
In this culinary creation, squid plays the main role, bringing a tender and succulent texture to every bite. But that's not all ! The colored peppers add a crunchy and bright note, while the garlic reveals its subtle aromas, making your taste buds dance.
The magic happens when Kampot pepper, famous for its exceptional quality, mixes with nuoc-mam sauce, creating a balanced symphony between strength and sweetness. And let's not forget palm sugar, this natural Cambodian treasure, which brings a slight touch of sweetness, perfectly balancing all the flavors.
In Ang Dtray Meuk, fresh herbs, such as coriander and Thai basil, add an incomparable aromatic dimension. Their intoxicating scent immediately transports you to the tropics, taking you on a journey through the captivating scents of Cambodian cuisine.
For an authentic taste experience, serve this culinary delight hot, accompanied by fresh vegetables or fragrant Cambodian rice. Let yourself be seduced by the beauty of the colors, the balance of flavors and the conviviality of this dish which will bring your guests together around a table imbued with exoticism.
The Ang Dtray Meuk offers a multitude of possibilities. Let your creativity run wild by adding your personal touch: a variety of crunchy vegetables, a hint of chili for thrill-seekers, or perhaps an artistic presentation to dazzle your guests.
So, let yourself be tempted by this Cambodian culinary adventure. Immerse yourself in the intoxicating aromas, savor every moment of preparation and let the Ang Dtray Meuk transport you to distant culinary lands. May this taste journey be an ode to discovery, tasting and sharing. Enjoy your food !
Ang Dtray Meuk Squid Recipe: A Culinary Journey to the Heart of the Flavors of Cambodia
Prep Time

10 min

Cook Time

15 min

Total Time

25 min

number of persons

4
Cuisine

type of dishes

Cooking Method
Ingredients
4 large squids or 8 small ones
1 colored pepper
4 bunches of

Kampot pepper

1 clove of garlic
2 tbsp sesame oil
2 limes
1 tbsp nuoc-mam sauce
2 tbsp palm sugar
Method
1
In a bowl, squeeze the two limes and add the sugar. Mix well to dissolve the palm sugar in the lemon juice.
2
Prepare the pepper by cutting it into julienne strips, and chop the garlic clove.
3
Heat the griddle or wok over medium-high heat, then add a little sesame oil. Add the squid and add the Kampot pepper clusters and chopped garlic.
4
Cook the squid for a few minutes until lightly browned. Next, pour the nuoc-mam sauce and sweetened lemon juice into the wok. Let the squid simmer in the sauce for a few more minutes to infuse the flavors.
5
To intensify the tangy taste, add lemon juice occasionally during cooking, depending on your preference.
6
Before the end of cooking, add the julienned peppers to the wok. Stir-fry them quickly to warm them up, but make sure they retain their crunch.
7
Once cooked, you can serve the squid whole or cut into pieces, depending on your preference. Serve them hot, accompanied by fresh vegetables or Cambodian rice.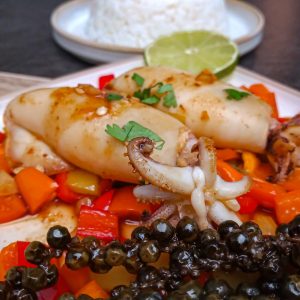 Note: In the example pictured, mini peppers and small squid were used, measuring approximately the length of a bunch of Kampot pepper. The final cooking will therefore depend on the size of the squid you use, as well as the quantity per person.
Feel free to personalize this recipe according to your tastes and culinary preferences.
You have just prepared a delicious Cambodian-style squid dish, Ang Dtray Meuk. This recipe transports you to the heart of the exotic flavors of Southeast Asia, with a harmonious blend of spices, lemon juice, palm sugar and Kampot pepper. Tender and flavorful squid pairs perfectly with the freshness of crunchy peppers and aromatic herbs such as coriander and Thai basil.
Served hot, these squid can be enjoyed as is, accompanied by fresh vegetables or delicious Cambodian rice. Let yourself be carried away by the captivating aromas that emerge from your plate. Each bite is an explosion of exotic flavors, transporting you to the shores of Cambodia.
Feel free to customize this recipe to your preferences. You can add other vegetables, adjust the spices or even vary the presentation to impress your guests. Ang Dtray Meuk is a versatile recipe that can be adapted according to your desires.
We hope you enjoyed this culinary adventure and feasted on this exquisite dish. Enjoy every bite and share this gastronomic experience with your loved ones. Enjoy your food !
Note: Remember to clean the squid thoroughly before cooking, removing the outer skin, tentacles and viscera. You can ask your fishmonger to prepare them in advance to save time when preparing the recipe.