Noum Bak Bean Recipe: Discover the Traditional Cambodian Cake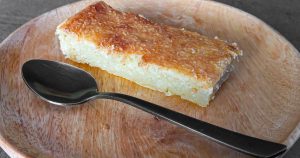 Noum Bak Bean – A Gourmet Journey to the Heart of Cambodia
At the heart of Cambodian gastronomy lies a sweet treasure that transcends the simple concept of dessert. Noum Bak Bean, a traditional cake deeply rooted in Cambodian culture, takes us on a gourmet journey to the heart of this fascinating country.
The name itself evokes the essence of this sweetness: "Noum" means "sugar" in Cambodian, and "Bak Bean" refers to the delicacy of grated cassava, the central ingredient of this pastry. But Noum Bak Bean is more than just a cake; it is a culinary heritage passed down from generation to generation, a true celebration of Cambodian tradition.
Noum Bak Bean finds its perfect balance in the combination of a few simple, but oh so delicious, ingredients. Grated cassava, with its soft texture, creates a perfect base for the whole thing. Shredded coconut adds an exotic touch and richness of flavor, while coconut milk provides unparalleled creamy smoothness. Pandan juice, a tropical aromatic herb, infuses a unique fragrant note, adding a sensory dimension to this culinary creation.
Preparing Noum Bak Bean is much more than just a recipe; it is a rite, a moment when families come together to create this sweetness and pass on their culinary heritage. Every step of the process, from grating the cassava to mixing the ingredients, is steeped in tradition and love.
When the Noum Bak Bean is finally ready, with its golden surface and captivating aroma, it is cut into individual pieces, ready to share with loved ones and friends. It is a symbol of generosity, conviviality and celebration.
So, let yourself be tempted by this Cambodian culinary adventure. When you taste Noum Bak Bean, you discover not only a sweet treat, but also a window into the culture and history of this extraordinary country. It's a taste journey to the heart of Cambodia, a culinary experience you will cherish forever. Noum Bak Bean is much more than a dessert; it is an invitation to explore the richness of Cambodian tradition, a sensory experience that will leave a sweet imprint in your heart.
Prep Time

20 min

Cook Time

50 min

Total Time

1 hr 10 min

number of persons

6
Ingredients
1.6 kg grated cassava
1/2 teaspoon of salt
335 g of

sugar

400ml coconut milk
240 g grated coconut
240 ml sweetened condensed milk
5 eggs
120 ml pandan juice
Butter or oil to grease the mold
Method
1
Start by preparing the pandan juice: mix the pandan leaves with a little water, then collect the juice by filtering it into a bowl.
2
In another bowl, mix the sweetened condensed milk, pandan juice, coconut milk and eggs until smooth.
3
In a large bowl, combine the grated cassava, sugar, salt and grated coconut. Mix the dry ingredients well.
4
Then put the mixture in a blender to finely chop the mixture, so that the cassava and grated coconut obtain a finer texture.
5
Incorporate the prepared liquid mixture (step 2) into the dry mixture (step 4). Mix well to obtain a uniform dough.
6
Preheat your oven to 190°C. Grease a cake pan of your choice.
7
Pour the batter into the greased pan.
8
Bake in a preheated oven at 190°C for 50 minutes to 1 hour, or until the cake is golden brown and a toothpick or the tip of a knife comes out clean.
9
Once cooked, let cool slightly, then cut the cake into individual pieces to make it easier to enjoy.
Congratulations, you have now successfully prepared this delicious Noum Bak Bean, an exotic dessert with tropical flavors. This soft cake made from grated cassava, coconut and coconut milk is a real treat that will delight your taste buds.
The combination of the sweetness of sugar, the richness of grated coconut, the scent of pandan juice, and the creamy texture of sweetened condensed milk combine perfectly to create a unique taste experience.
After baking in the oven until a beautiful golden color, the Noum Bak Bean is ready to be cut into individual pieces. Serve it to your guests or family for an exotic touch during your festive gatherings.
Whether for a special celebration or simply to satisfy your sweet tooth, Noum Bak Bean is a deliciously sweet and fragrant option not to be missed. Enjoy every bite of this memorable dessert that transports you to distant lands.
We hope you liked this recipe and will share it with your loved ones. Enjoy your food !