Sweet and sour shrimp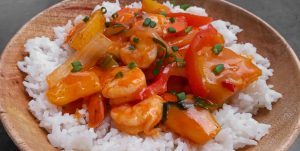 Gourmet Exploration: Sweet and Sour Shrimp Stir-Fry
At the heart of cuisine, there is a world of flavors and discoveries waiting to be explored. Today, we invite you to embark on an exhilarating culinary journey with a deliciously exotic stopover: Sweet and Sour Shrimp Stir-Fry.
Imagine peeled shrimp, tender and juicy, dancing in a symphony of contrasting flavors. The red pepper adds sweetness and crunch, while the sweet and sour sauce evokes a taste experience that combines acidity and sweetness with a slightly spicy touch. The pineapple, with its tropical freshness, adds a sweet note that balances the whole thing.
But that's not all. This dish is a celebration of the freshness and vitality of cuisine. The ingredients mix in an aromatic dance where each bite is an explosion of flavors. And to top it all off, fresh coriander, with its delicate scent, adds a herbaceous touch that delights the senses.
This Sweet and Sour Shrimp Stir-Fry is much more than just a dish. It is a sensory experience, a taste journey that transports you to distant lands, where aromas and flavors blend harmoniously to create a delight for the taste buds.
Whether you are a seasoned cook or a novice in the kitchen, this recipe is for everyone. It prepares quickly, providing an exquisite meal in no time. And it's completely customizable, allowing you to adjust the ingredients to your preferences.
So, whether for a family evening, a romantic dinner or simply to satisfy your desire to discover new flavors, Sweet and Sour Shrimp Sauté is a choice that will brighten up your table and amaze your guests.
Don't wait any longer, dive into this culinary adventure and let yourself be carried away by the delights of this shrimp stir-fry which transports you to unexplored gastronomic horizons.
Prep Time

15 min

Cook Time

10 min

Total Time

25 min

number of persons

4
Cuisine

type of dishes

Cooking Method
Ingredients
600g peeled shrimp
1 red pepper, sliced
1 small can of pineapple, chopped
1 onion, chopped
1 clove of garlic, chopped
180 ml sweet and sour

sauce

A bunch of fresh coriander
Cooking oil
Salt and pepper, to taste
Method
1
In a bowl, prepare the sauce by mixing the sweet and sour sauce. Reserve.
2
In a skillet or wok, heat the oil over medium-high heat. Add the chopped onion and red pepper. Sauté for 2 to 3 minutes until they become tender.
3
Add the peeled shrimp to the pan with the chopped garlic. Saute for 2 minutes until the shrimp turns pink and cooked. Season with salt and pepper to taste.
4
Add the pineapple chunks to the pan and cook for an additional 1 to 2 minutes, stirring occasionally.
5
Pour the prepared sweet and sour sauce into the pan and bring to a boil. Simmer for 2 minutes so that the sauce thickens slightly and coats the ingredients well.
6
Remove the pan from the heat. Add a few chopped fresh coriander leaves for flavor and decoration.
7
If desired, serve the sweet and sour shrimp stir-fry over a bed of cooked rice and garnish with additional fresh cilantro.
8
Enjoy your delicious sweet and sour shrimp stir-fry immediately!
This Sweet and Sour Shrimp Stir-Fry is an explosion of exotic flavors in every bite. The tender shrimp pairs perfectly with the sweet aroma of red pepper and the tang of the sweet and sour sauce. The pineapple adds a touch of freshness and sweetness to the whole, while the fresh coriander crowns the dish with an aromatic and herbaceous note.
Served on a bed of cooked rice, this shrimp stir-fry is a real feast for the taste buds. Each ingredient is carefully balanced to create a harmonious balance of flavors and textures. Whether for a family meal or to impress guests, this recipe is a perfect option that can be prepared quickly.
Feel free to personalize this recipe by adding other seasonal vegetables or adjusting the spiciness level of the sweet and sour sauce to suit your preferences. Either way, this sweet and sour shrimp stir-fry promises you a memorable taste experience. Enjoy!