Cambodian pahut with panga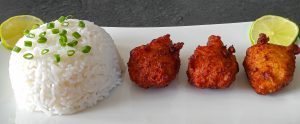 Discovering Cambodian Pahut : A Culinary Odyssey in Cambodia
When exploring the rich tapestry of Asian cuisine, we often discover culinary treasures that reflect the depth of the region's culture and history. Among these taste gems, the Cambodian Pahut shines with particular brilliance.
Originally from the Kingdom of Cambodia, Pahut is a fish-based preparation, a true ambassador of Khmer cuisine. This recipe, passed down from generation to generation, offers us a culinary experience that evokes the warmth of local markets, the intoxicating aroma of lemongrass and the perfect fusion of flavors.
The main ingredient, fish, is delicately chopped and mixed with a combination of spices that awaken the taste buds. Lemongrass adds its signature freshness, while prahok, a fermented fish paste, adds a unique umami dimension.
What makes Cambodian Pahut even more captivating is how it pairs with other elements of Cambodian cuisine. Traditionally served with rice or noodles, this dish is often accompanied by lime wedges, which provide an essential touch of acidity to balance the flavors.
Whether you enjoy it as an aperitif, as a main course or while sharing a convivial meal with the family, Cambodian Pahut promises an unforgettable sensory experience. It is an invitation to discover the rich and diverse culture of Cambodia through the magic of cuisine.
So, take a seat at the table of Southeast Asia and let yourself be carried away by Cambodian Pahut, a taste experience that will transport you to distant lands, at the crossroads of flavors and memories. Enjoy your food !
Prep Time

30 min

Cook Time

5 min

Total Time

35 min

number of persons

4
Cuisine

type of dishes

Cooking Method
Ingredients
Method
1
Roughly cut the fish into pieces and chop the onions.
2
In a food processor, add the fish pieces, onions, garlic, sugar, fish sauce, prahok, lemongrass, salt and pepper. Mix until smooth.
3
Form the mixture into balls approximately 5 cm in diameter by shaping them in the palm of your hand.
4
In a wok, heat oil over medium heat.
5
Fry the fishballs until golden brown, about 5 minutes.
6
Transfer the meatballs to a plate with paper towels to drain excess oil.
7
Serve these meatballs as an appetizer or main dish
In Asia they are often accompanied by rice or noodles and served with lime wedges to add a touch of freshness.
Congratulations ! You have just prepared a delicious Cambodian Pahut, a specialty full of flavors from the Khmer kingdom. These fish balls flavored with lemongrass and prahok bring an authentic taste experience to your table.
When you taste these crispy balls, you are transported to the heart of Asia, where flavors blend harmoniously to create an explosion of tastes in your mouth. Palm sugar adds subtle sweetness, while fish sauce and lime provide a touch of freshness.
Serve these Cambodian Pahut as an appetizer to impress your guests or as a main course, accompanied by rice or noodles. Indulge in this exquisite culinary journey to Cambodia, right from the comfort of your home.
Share this unique taste experience with your loved ones and enjoy every bite of this traditional Cambodian recipe. Enjoy your food !