Num Kom Cambodian rice cake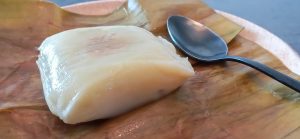 Savor the exoticism of Asia with Num Kom
In the vast palette of Asian flavors, Num Kom stand out as true culinary gems. Originally from Cambodia, this delicious dish subtly combines the sweetness of coconut, the richness of palm sugar (jaggery) and the light crunch of sesame seeds. An explosion of flavors in every bite, these little wonders transport us directly to the banks of the Mekong.
The base of this traditional Cambodian rice cake recipe is glutinous rice flour, which gives Num Kom their unique texture, which is both soft and slightly sticky. Fresh grated coconut is the star of the topping, adding a tropical, creamy note, while jaggery syrup, a palm sugar with caramelized accents, provides an irresistible natural sweetness.
Preparing Num Kom is an art in itself. The rice dough balls are shaped by hand, then delicately filled with this incredible filling, before being wrapped in banana leaves, creating little wonders ready to be steamed.
Steaming allows these little treasures to retain their soft texture while allowing their flavors to blend harmoniously. The end result is a sweet, salty and crunchy delight, with exotic aromas that evoke the hot summer days and lush landscapes of Southeast Asia.
Num Kom are not only a treat for the taste buds, but they are also a testimony to the richness of Cambodian cuisine. This recipe, passed down from generation to generation, embodies tradition and love of family cooking, making Num Kom much more than just a snack, but a true cultural treasure.
Whether for a special occasion or simply to satisfy a gourmet craving, Num Kom is a culinary experience not to be missed. Invite yourself on an exotic taste journey by preparing these little wonders and discover the magic of Cambodian cuisine in the comfort of your own kitchen.
Prep Time

50 min

Cook Time

15 min

Total Time

1 hr 5 min

number of persons

4
Ingredients
250g glutinous rice flour
Warm water for the dough
400g fresh coconut, finely grated
4 teaspoons sesame seeds (preferably black)
120 ml jaggery syrup (

palm sugar

)
1 pinch of salt
Banana leaves
Vegetable oil for greasing
Method
Prepare the filling
1
In a pan, roast the sesame seeds over medium/low heat until they turn light golden brown.
Turn off the heat and add grated coconut and jaggery syrup. Mix well to obtain a homogeneous filling. Reserve this garnish for later.
Prepare the dough
2
In a large bowl, mix the glutinous rice flour with a pinch of salt.
Add lukewarm water gradually while mixing until you obtain a soft, easy-to-work dough.
Form the dough
3
Take pieces of dough and form balls approximately 5 cm in diameter.
Flatten each ball to form a small pancake.
Place a teaspoon of the filling (black sesame, coconut, jaggery) in the center of each patty.
Close the patty around the filling to form a dumpling or rectangular shape.
Préparer les feuilles de bananier
4
Cut the banana leaves into pieces of approximately 20×20 cm (allow as many as preparations).
Brush each banana leaf with vegetable oil to prevent the Num Kom from sticking to it.
Packing the Num Kom
5
Place each preparation in a piece of banana leaf.
Close giving a pyramidal or rectangular shape, depending on your preference.
Cuisson à la vapeur
6
Cooking pot :
Boil a large quantity of water in a pot fitted with a steam basket (like a couscous maker).
Place a layer of banana leaves at the bottom of the steam basket to prevent the Num Kom from sticking to the bottom and to add flavor.
Arrange the prepared Num Kom without damaging them.
Add two layers of banana leaves on top and cover the pot.
Let it steam for 15 minutes.
Steam cooker:
Place the prepared Num Kom without damaging them in the steam cooker.
Cover and let steam for 15 minutes.
Serve
7
Once cooked, remove the Num Kom from the steam.
Serve them hot by placing them on a plate. They are ready to be enjoyed!
Savor the delicious sweetness of Num Kom!
Congratulations, you have successfully made these delicious sticky rice balls with coconut, black sesame and jaggery. Now it's time to taste them and treat yourself to this exquisite treat.
When you take your first bite, you will be transported by the sweetness of jaggery combined with the chewy texture of sticky rice. Black sesame seeds add a touch of crunch, while fresh coconut brings an unmistakable tropical flavor.
Whether for dessert, a snack or for a special occasion, Num Kom are a unique culinary experience that will delight your taste buds. Share them with your loved ones and savor the love and care you put into preparing them.
Don't forget to serve these little treasures on banana leaves for an authentic presentation and subtle flavor. Take advantage of this gourmet moment and treat yourself to this traditional specialty. Enjoy your food !