Sach Ko Jakak skewers

Cambodia, a Gourmet Journey Through the Flavors of Sach Ko Jakak
Immerse yourself in a fascinating taste adventure through the captivating scents and tastes of Cambodia with our irresistible "Sach Ko Jakak" recipe. It's a culinary creation that embodies the richness of this Southeast Asian nation, where exotic spices and fresh ingredients come together to create a symphony of flavors.
At the heart of this gastronomic experience is Kroeung paste, a complex blend of flavors consisting of fresh lemongrass, galangal, turmeric, fragrant garlic and kaffir lime leaves. This paste becomes the fragrant base which gives Sach Ko Jakak its unique character and its indisputable authenticity.
But the magic of this dish doesn't stop there. The marinade, an expert combination of oyster sauce, fish sauce, honey, paprika powder, salt, coconut milk and vegetable oil, provides a balanced sweetness that coats each piece of beef. The result is an explosion of flavors in the mouth, a perfect balance of sweet, salty, and umami.
Leave the meat to marinate overnight to allow these complex flavors to penetrate deeply, creating an unparalleled taste experience. Whether you choose to grill them on the barbecue for a seductive smoky aroma or on the plancha for perfect cooking, Sach Ko Jakak skewers are an ode to Cambodian gastronomy.
You have the freedom to serve them with marinated vegetables for a touch of freshness or with fragrant rice for a complete and balanced meal. And if you're daring, dare the ultimate experience by inserting these skewers into the heart of a French croissant, accompanied by an exotic papaya salad. This creative fusion of flavors offers a unique culinary journey, combining East and West in an unexpected way.
In the spirit of Cambodian culture, this Sach Ko Jakak recipe is much more than just a meal. It is an invitation to discover, share and celebrate the diversity of flavors that make Cambodian cuisine an extraordinary experience.
So, get ready to embark on a culinary journey where exoticism mixes with tradition, where the flavors of Cambodia will enchant you and remind you of the distant scents of a magnificent and enigmatic land. An experience that is sure to leave a memorable imprint on your palate and in your heart.
Cambodian Sach Ko Jakak Recipe: A Gourmet Journey to the Heart of Asia
Prep Time

20 min

Cook Time

10 min

Total Time

30 min

number of persons

4
Cuisine

type of dishes

Cooking Method
Ingredients
Kroeung
Marinade
2 tablespoons oyster sauce
1 tablespoon of fish sauce
2 tablespoons of honey
1 teaspoon of paprika powder
½ teaspoon of salt
3 tablespoons of coconut milk
3 tablespoons of vegetable oil
Method
1
Before pounding the mixture for the Kroeung, make sure to finely chop all the ingredients first to get a smoother, less fibrous dough in the end.
2
For the marinade, mix all the ingredients together. Taste and adjust flavors to your liking.
3
Mix the marinade with the Kroeung you prepared.
4
Marinate the beef overnight for best results.
5
Thread the meat onto skewers of the length that suits you best for your skewers.
6
Raw skewers can be frozen. When preparing them, you can put them directly on the grill, even if they are still frozen. There is no need to wait for them to thaw.
7
Grill the skewers on the barbecue or on the plancha to develop a nice flavor.
8
Serve the skewers with your favorite marinated vegetables or rice, and enjoy.
9
It is even possible to combine them with a French croissant cut lengthwise, by placing the skewer with a little papaya salad, then close the croissant for an original touch.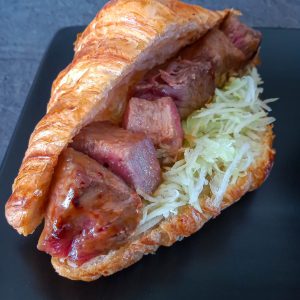 And here we come to the end of this wonderful culinary adventure in the heart of Cambodia with our delicious Sach Ko Jakak recipe. These fragrant beef skewers, infused with the authentic flavors of Kroeung dough and exquisite marinade, are ready to delight your taste buds.
The careful preparation of Kroeung dough, with its fresh ingredients like lemongrass, galangal, turmeric, garlic and kaffir lime leaves, results in a fragrant base that is simply unmatched. It's this paste that gives these skewers their unique character and depth of flavor.
The marinade, balanced between the sweetness of the honey, the richness of the oyster sauce, the umami of the fish sauce and the nuances of the paprika powder, brings a touch of sweetness and complexity to the beef. The coconut milk softens everything even more, while the vegetable oil ensures perfect cooking.
After marinating the beef overnight, you've created an explosion of flavor in every bite. Whether you choose to grill them on the barbecue for an irresistible smoky side or on the plancha for perfect cooking, these Sach Ko Jakak skewers are a culinary experience not to be missed.
You also have the opportunity to express your creativity by serving them with your favorite marinated vegetables or accompanying them with a bowl of fragrant rice, creating a complete and balanced meal that will please all palates.
But boldness is also welcome: imagine tasting these surprising skewers inside a French croissant cut lengthwise. Add a generous portion of papaya salad for a fusion taste experience, blending the flavors of the East and the West.
So, let your table be the scene of conviviality and sharing, these Sach Ko Jakak skewers are ready to awaken your taste buds and take you on a culinary journey. Enjoy this Cambodian feast and savor every moment of this unique culinary experience, reminiscent of the distant scents and rich traditions of this magnificent region of Asia.