Beef curry with coconut milk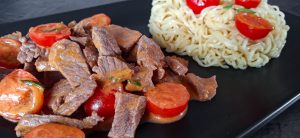 Beef Curry with Coconut Milk, an Explosion of Flavors!
Welcome to the exquisite world of Cambodian cuisine, where each dish tells a story of flavors, spices and centuries-old traditions. Today, we invite you on a taste journey to the heart of Cambodia with our irresistible Beef Curry with Coconut Milk.
Cambodia, nestled in the heart of Southeast Asia, is a land rich in history and culture, and its cuisine is no exception. Beef Curry with Coconut Milk is one of this country's culinary treasures, skillfully combining local ingredients to create a symphony of flavors.
At the heart of this dish is a vibrant and fragrant red curry paste, which brings a spicy and exotic touch. It dances in harmony with the coconut milk, which gives it a velvety creaminess and soothing softness. When these two elements meet in the wok, magic happens, releasing intoxicating aromas that awaken the senses.
Finely sliced beef is the star of this culinary creation. Its tenderness goes perfectly with the nuoc mâm fish sauce, which adds a salty and umami note, as well as with the palm sugar, which brings a subtle and balanced sweet touch.
For those looking for a little daring, the red peppers, cut on an angle, add a spicy note, to be measured according to your culinary courage. And to top it all off, fresh Thai basil leaves add a touch of freshness and color to every bite.
This Beef Curry with Coconut Milk is much more than just a dish; it is a sensory experience, a journey for the taste buds, an immersion in a culture rich in flavors and history. Serve it with fragrant Cambodian rice or rice noodles for a complete and authentic experience.
May this dish transport you to the bustling streets of Phnom Penh, among the warm smiles of the locals, and allow you to taste the magic of Cambodian cuisine, from the comfort of your home.
Cambodian Recipe: Cambodian Beef Curry with Coconut Milk
Prep Time

10 min

Cook Time

35 min

Total Time

45 min

number of persons

4
Cuisine

type of dishes

Cooking Method
Ingredients
3 tablespoons of vegetable oil
1 tablespoon red curry paste
60 cl of coconut milk
50 cl of water
500 g beef of your choice, finely sliced
2 tablespoons of fish sauce (nuoc mâm)
2 tablespoons of

palm sugar

3 red peppers (adjust to taste)
some

cherry tomatoes

Thai basil

leaves
Method
1
In a wok, heat the oil over medium heat. Add the red curry paste and stir-fry for 1-2 minutes until it releases its aromas.
2
Pour in 30 cl of coconut milk and cook for 3 minutes until the mixture thickens and the oil in the coconut milk separates and floats to the surface.
3
Add the beef and stir for about 4 minutes.
4
Pour 50 cl of water and bring everything to a boil over high heat. Reduce the heat, cover and simmer over low heat for about 20 minutes, stirring occasionally.
5
Add the fish sauce, remaining coconut milk and sugar. Continue cooking for 5 minutes.
6
Add the red peppers cut into wedges, then bring to the boil again and cook for another 5 minutes.
7
Sprinkle with Thai basil leaves and remove from heat.
8
Serve with Cambodian rice, rice noodles, sweet potato or curry noodles.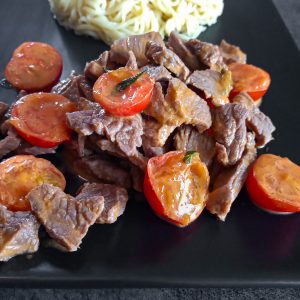 Congratulations ! You have just created a delicious Beef Curry with Coconut Milk, an explosion of authentic Cambodian flavors. This balanced and fragrant dish combines the heat of red curry, the sweetness of coconut milk, and the richness of beef for an unforgettable taste experience.
The secret to this recipe lies in patience and attention to detail, allowing each ingredient to come together to create a symphony of tastes and textures. Fresh Thai basil brings a touch of freshness to every bite, while red chili peppers add a slightly spicy note, which you can adjust to your preference.
Served with Cambodian rice or rice noodles, this Beef Curry with Coconut Milk is a complete dish that will delight your taste buds and impress your guests. It embodies the rich culinary tradition of Cambodia, where exotic flavors mingle with the passion for home cooking.
May this meal transport you straight to the bustling streets of Phnom Penh or the floating markets of the Mekong, and savor every moment of this unique culinary experience. Enjoy your food !