Discover the delights of Cambodia with our authentic recipe for kari sach mean known as Cambodian chicken curry. Immerse yourself in the culinary richness of this Southeast Asian country, where exotic aromas and bewitching spices come together to create breathtaking dishes. The kari sach mean Cambodian chicken curry is a real ode to the Khmer culinary tradition. Inspired by vibrant flavors and local ingredients, this dish embodies the very essence of Cambodian cuisine: rich, spicy and deliciously fragrant. Our recipe will take you on a taste journey through the bustling markets of Phnom Penh and the quaint little villages of the Cambodian countryside. Freshly cut lemongrass stalks, aromatic galangal, vibrant turmeric and fiery red chillies are carefully blended to create an aromatic paste that will bring your curry to life. The tender and juicy chicken is infused with this creamy coconut milk sauce, creating a perfect harmony between flavors and textures. Carrots and potatoes add a subtle sweetness and pop of color to this culinary array, while red onion brings a note of freshness. This Cambodian kari sach mean is more than just a dish. It is a real sensory experience that transports you to the heart of Cambodian culture, where culinary traditions are passed down from generation to generation. Close your eyes and let yourself be carried away by the intoxicating scents, complex flavors and spices that dance on your palate. Whether you're a fan of Asian cuisine or just curious about new flavors, this Cambodian chicken curry is a culinary journey not to be missed. Prepare it at home and share it with your loved ones for a friendly and memorable experience. Immerse yourself in the magic of Cambodia through this kari sach mean and let yourself be seduced by the bewitching flavors of this unique culinary destination.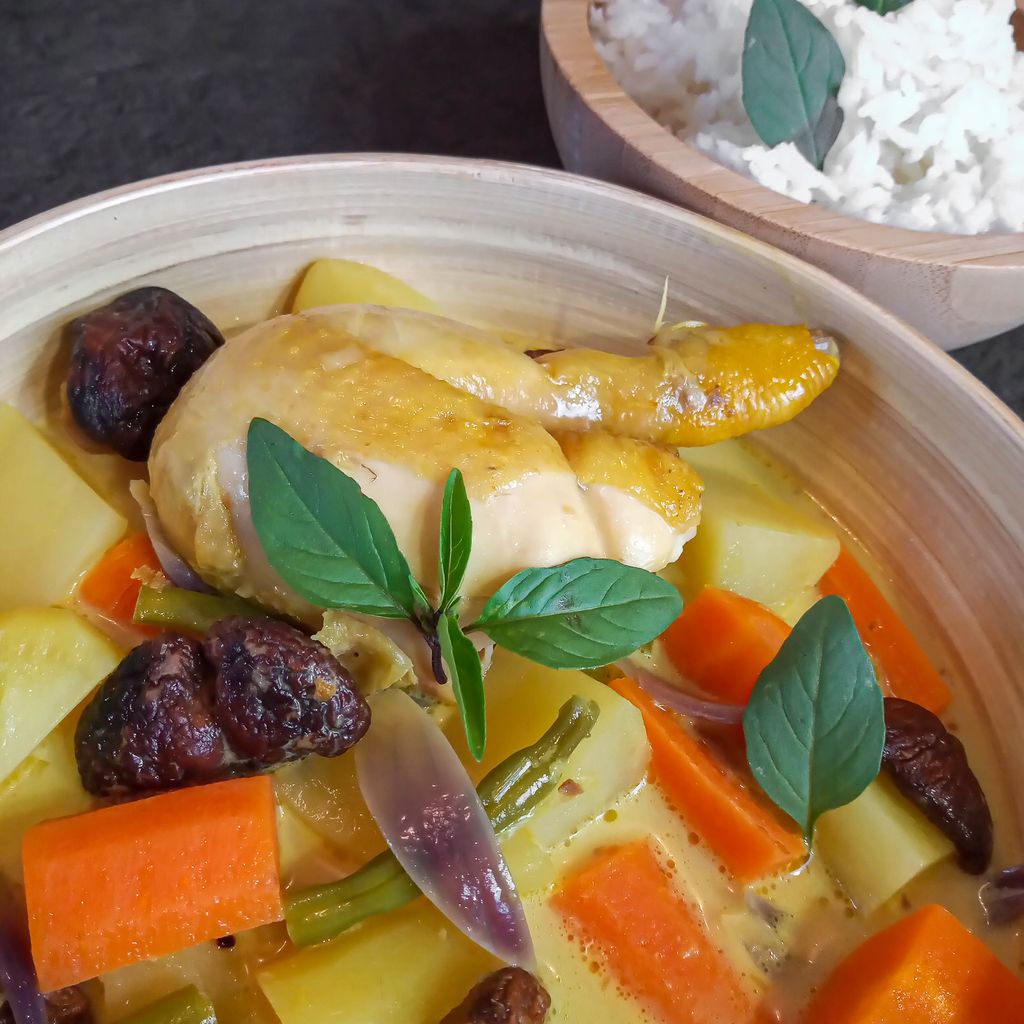 Kari sach mean chicken curry
Discover our delicious recipe for kari sach mean chicken curry, an exotic and fragrant dish that will delight your taste buds. Prepared with authentic spices, creamy coconut milk and tender vegetables, this curry offers an explosion of enchanting flavors. Follow our detailed kari sach mean recipe and let yourself be transported to distant lands where the exotic aromas will bewitch you. A real feast for lovers of exotic cuisine and taste discoveries.
Recette détaillée Kari sach mean pour
4

personnes
Ingrédients :
1 chicken
2 potatoes
1 piece of turmeric of 3 cm
150 cl of coconut milk
2L coconut water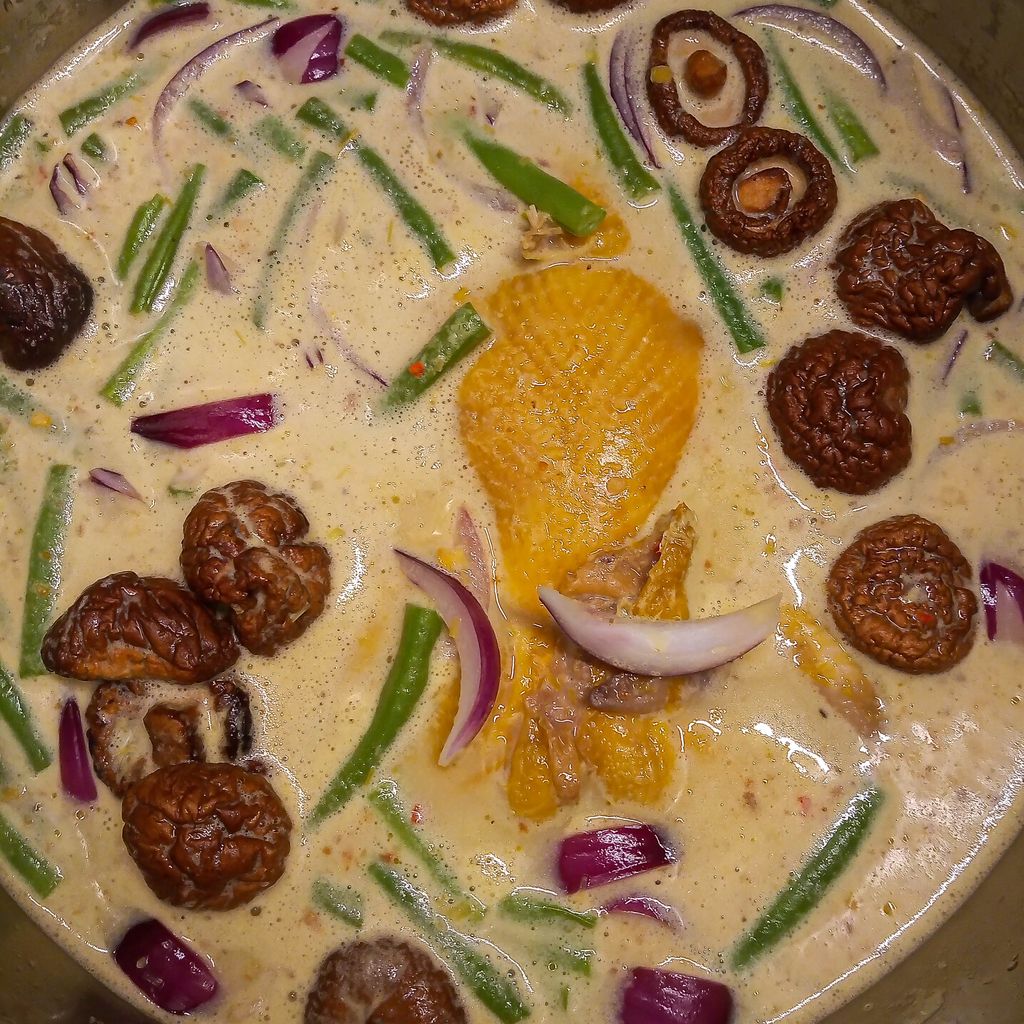 Instructions :
Start by preparing a paste by mixing together the lemongrass, garlic, galangal and turmeric. Take care to obtain a homogeneous consistency and reserve this aromatic paste.
Finely chop the chillies, then crush them in a mortar to make a paste. This preparation will add a delicious heat to kari sach mean.
Cut the chicken into pieces or leave it whole according to your cooking preference.
In a large saucepan, add half the coconut milk, the chilli paste prepared previously and the aromatic paste (lemongrass, garlic, galangal, turmeric). Mix all these ingredients together.
Heat the mixture over medium heat and stir until smooth and homogeneous. Then add the chicken meat and the rest of the coconut milk, as well as the palm sugar.
Add the shiitake mushrooms and simmer gently. Allow the flavors to blend and develop while cooking.
Then add the carrots, potatoes, red onion and green beans to the pan, making sure to cut them into similar sized pieces for even cooking.
Pour the coconut water into the pan and simmer for about 30 minutes depending on your pchicken if you leave it whole or not. This will allow all the ingredients to soften and the flavors to blend perfectly.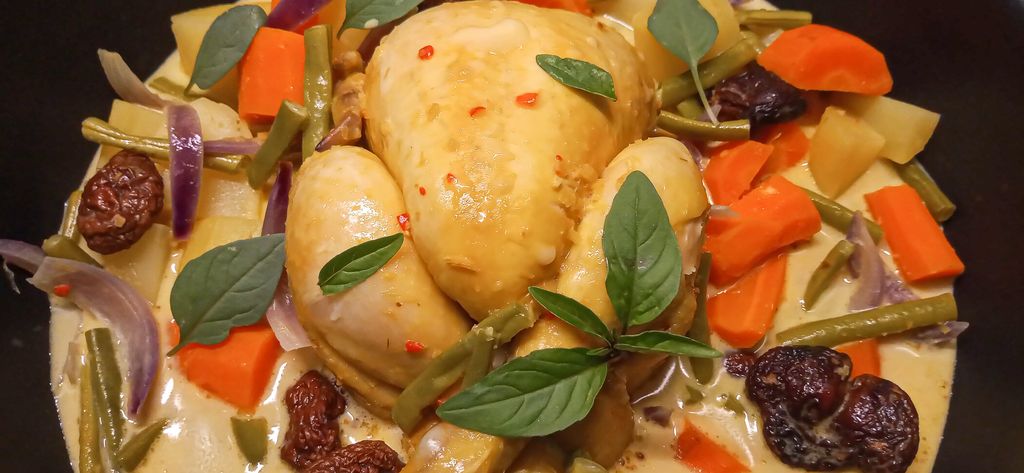 Serve the chicken curry hot, garnished with fresh Thai basil leaves for an extra splash of flavor. Accompany it with Cambodian fragrant rice for a delicious and fragrant meal. Congratulation ! You have just prepared a delicious kari sach mean chicken curry that will amaze your taste buds. This fragrant and tasty dish is a real explosion of exotic flavors that warms the heart and satisfies the most gourmet appetites. The harmonious marriage of lemongrass, galangal, turmeric and chilli brings aromatic depth to the creamy coconut milk sauce, while tender vegetables and juicy pieces of chicken melt into this delicious mixture. Each bite is a symphony of tastes, a culinary experience that transports your senses to distant lands. The gentle, slow cooking time of the kari sach mean allowed the ingredients to blend seamlessly, creating a balanced and comforting dish. The carrots and potatoes absorbed the rich flavors of the curry, while the red onion added a light touch of sweetness. The green beans provide a crunchy texture that contrasts nicely with the creamy sauce. To complete this feast, generously top your chicken curry with fresh Thai basil leaves. The delicate scent of shiitake mushrooms will sublimate each bite and bring a touch of freshness to this hearty dish. Serve this delicacy in bowls, accompanied by fragrant basmati rice. Let yourself be carried away by the bewitching aromas that escape from your plate, and savor each spoonful with pleasure. May this chicken curry become a staple of your meals with family or friends. Share this culinary experience and let yourself be carried away to distant horizons, where spices and flavors mingle in an intoxicating dance. Bon appetit and bon voyage!