Immerse yourself in the captivating culinary world of Cambodia with our recipe for squid with Fresh Kampot Pepper. This traditional dish is a real taste treasure that combines the freshness of seafood with the aromatic intensity of Kampot pepper, reputed to be one of the best in the world. Let yourself be seduced by the tenderness of the calamari which blends harmoniously with the subtle power of fresh Kampot pepper. This exceptional spice, grown in the fertile lands of Cambodia, gives this dish a unique and captivating flavor. The preparation of these squids with Fresh Kampot Pepper is a real game of balance between fresh ingredients and authentic culinary techniques. The julienne of crunchy vegetables – peppers, carrots, onions – brings a pleasant texture and a colorful burst to the whole dish. A hint of chilli and finely chopped garlic spice it up, offering a symphony of exotic flavors in every bite. Sweet soy sauce, fish sauce and the subtle touch of tomato juice come together in this tasty blend, giving the preparation a perfect balance between sweetness and intensity. Sugar and salt enhance the flavors, while soup powder or vegetable stock adds extra depth of flavor. During the tasting, you will be immediately transported to the sunny shores of Cambodia, where exotic flavors mingle with the warm smiles of its inhabitants. Serve these hot Kampot Pepper squids alone as a main dish or accompanied by fragrant Cambodian rice, for a complete taste experience. Let yourself be enchanted by this authentic recipe and enjoy every bite of these squids with Fresh Kampot Pepper. Indulge your senses and explore the culinary delights of Cambodia, from the comfort of your own kitchen.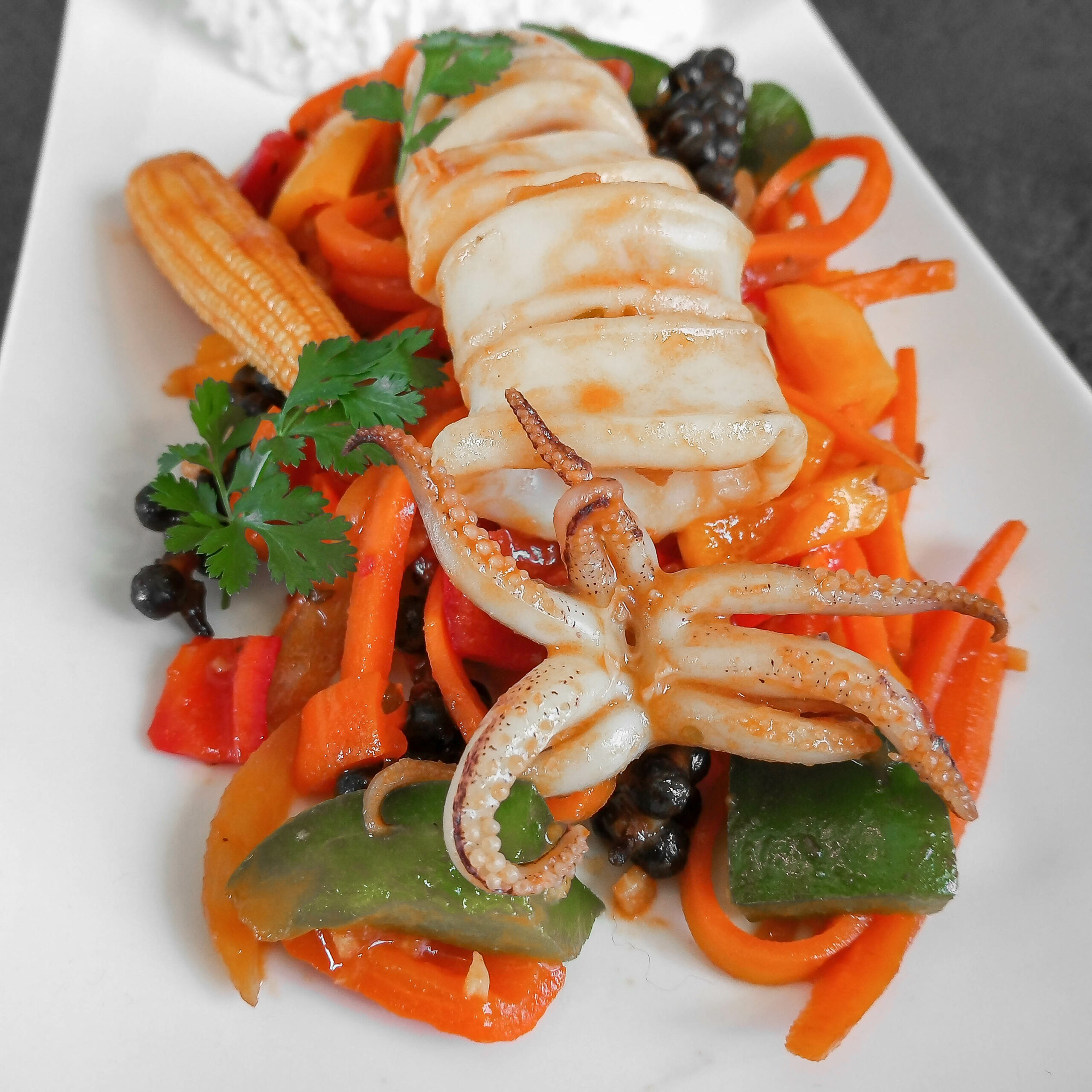 Squid with Fresh Kampot Pepper
Discover an exquisite recipe for squid with Fresh Kampot Pepper, a Cambodian specialty that will delight your taste buds. Tender and fragrant calamari, combined with crunchy vegetables and fresh Kampot pepper, will give you an explosion of exotic flavors. Prepare this delicious dish and enjoy a culinary journey to the heart of Cambodia.
Detailed recipe Squid with Fresh Kampot Pepper for
4

people
Ingrédients :
500g squid
young corn sprout
1 tsp of sugar
1 tsp cornstarch
1/2 tsp salt
1 tbsp vegetable oil
4 tbsp tomato juice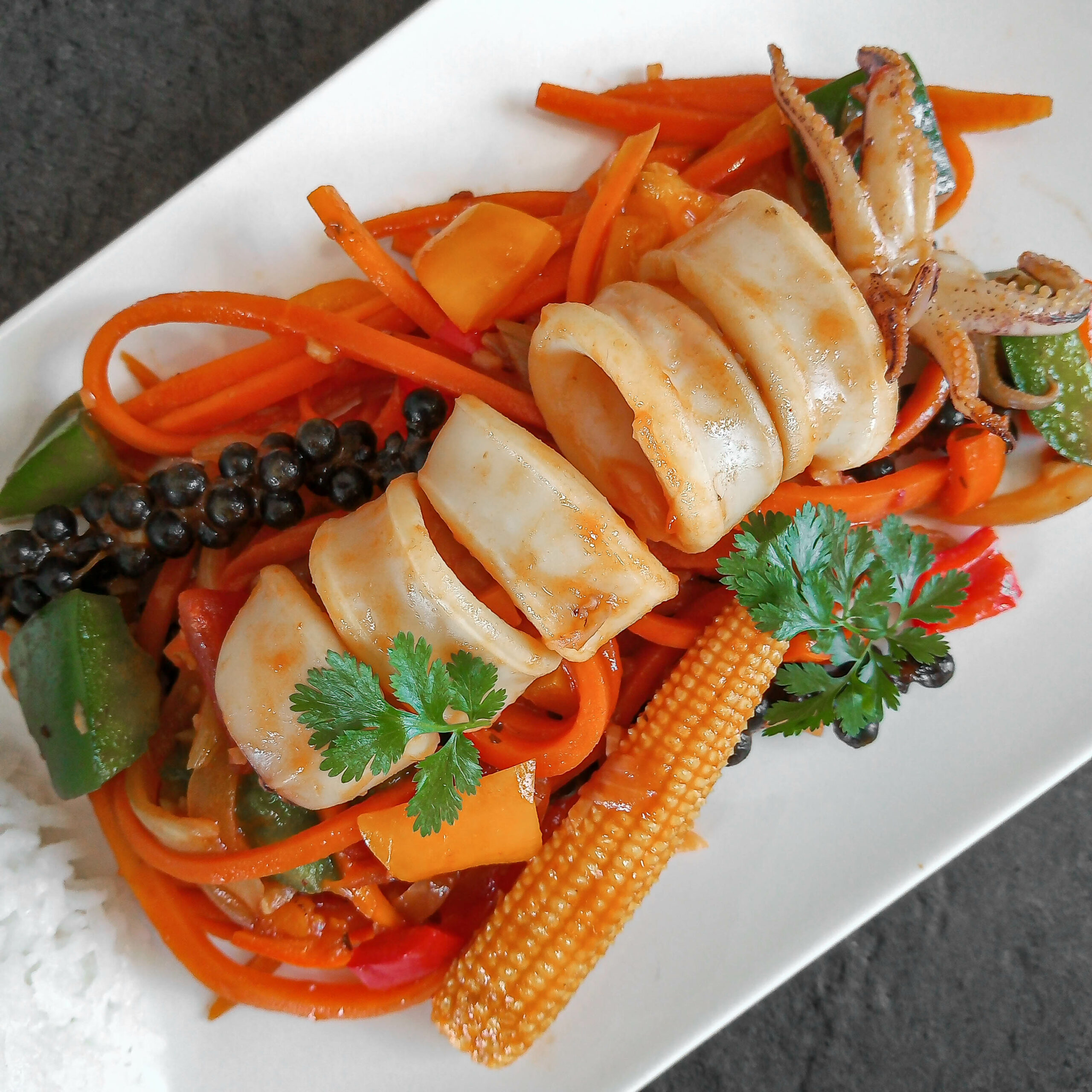 Instructions :
Start by cutting the Kampot pepper clusters into two pieces and set them aside. Next, cut the spring onion, peppers, onion and carrot into julienne strips. Finely chop the garlic and set aside in a bowl.
Prepare the calamari by gutting and cleaning if necessary. Then cut them into equal sized pieces.
Heat a wok over high heat with oil. Add the garlic and brown it, then add the squid pieces. Mix well.
Then add sweet soy sauce, fish sauce, sugar, salt, tomato sauce and mix everything together. Let simmer for 10 minutes.
Add the bunches of Kampot pepper, the carrot, the onion, the spring onion, the baby corn and the bell pepper. Mix well and simmer, making sure to keep the peppers crisp.
Serve hot, on its own or with a delicious fragrant rice from Cambodia.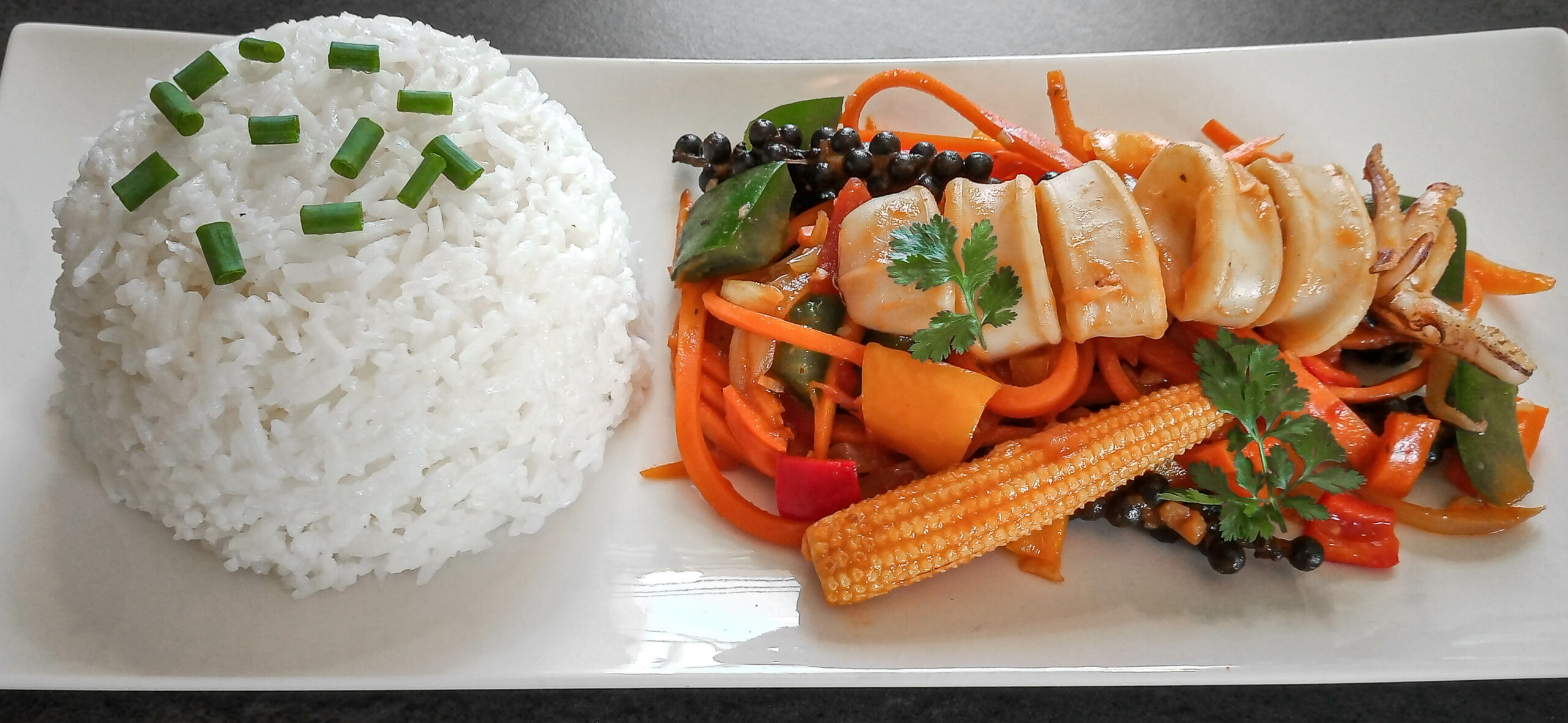 Feel free to adjust the quantities and spices according to your personal preferences. There you go, your succulent squid dish with Fresh Kampot Pepper is ready to be tasted! This recipe will transport you directly to the exotic flavors of Cambodia. Tender and delicately seasoned calamari pair perfectly with the bewitching scent of fresh Kampot pepper. The combination of crunchy vegetables such as bell pepper, carrot, spring onion and baby corn adds a nice texture and a vibrant splash of color to your plate. Whether you choose to savor this dish on its own or accompany it with fragrant Cambodian rice, the culinary experience will be unforgettable. Take the time to savor each bite, appreciating the subtle balance of flavors and the freshness of the ingredients. Feel free to share this delicious dish with your loved ones and surprise them with an explosion of exotic flavors. You can be proud of your talent as a chef and your ability to create unique and delicious dishes. We hope this squid recipe with Fresh Kampot Pepper has inspired you and taken you on a journey through Cambodian cuisine. Bon appetit and bon voyage!